I was going crazy looking for a lesbian Kama Sutra book. It's not as easy as you'd think. Or, maybe I'm completely inept at Googling what I'm looking for. Anyway, a
Good Vibrations
store just opened up in my city and I was itching to have a look. I brought a girl friend with me and we explored. That's where I found Lesbian Sex. I was delighted, finally, I was on my way to real girl sex; well, as good as it gets next to engaging in it yourself.
Each description of a sex act is partnered with a photograph of the position in action. In some instances they are variations of the act described.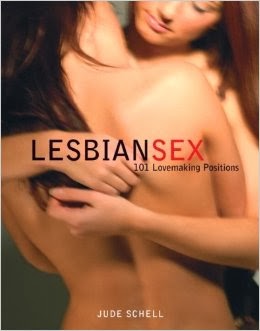 The book does not limit itself to two partners. In position 66, "The Peach Gobbler", three women play with each other. I found this position refreshing; I was happy that the author was able to branch out beyond "vanilla" lesbian sex. Nor was the author limiting herself to what one would think of as "traditional" positions. #42, "Tailgate" has one of the two women standing behind her partner and touching her clit while other positions include dry humping, oral sex, vaginal penetration, anal penetration and rimming, and, what most people think of when they imagine "lesbian sex", scissoring.
If you're interested in how women have sex with one another, read this book. If you want to explore sex with your partner and come up with new moves, read this book. And, finally, if you are questioning your sexuality, read this book; the images are stimulating as well as informative and using this book to explore your sexuality is a good use of the resource in front of you.