Today I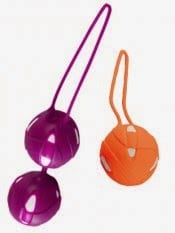 walked around for an hour with
Good Vibes Smartballs Teneo Silicone Kegel Balls
in my vagina. I think this is their one and only product so far that hasn't been wonderful. Now, don't get me wrong, I love the full feeling I get from toys but this wasn't pleasant. For started, they were too big for my unaroused vagina. Vagina's are about 3 inches long when the owner is not aroused and I pushed these balls to the limit. It's important to use a lot of lube when inserting the balls. 
The problem was that they felt like they were going to pop out and when I stood up it felt like they were pinching me. I wasn't a fan of the texture. I don't understand why that's there. Their purpose is to strengthen the vagina, and arouse the wearer. My gynecologist actually recommended that I try these balls to make myself have more control over my bladder. And I feel like it's worked.
However, these balls were not worth the discomfort. I am better off doing my Kegel exercises and holding for ten seconds than I am with the Smartballs. The one thing that I did like were the balls inside the silicone balls. When I walked they gave me a pleasurable feeling, almost like a massage for my vagina.
The texture was a no-go, the smell was not noticeable, if there even was a smell to the toy,  the feeling was not great. I would give this product 2 or 3 stars.