This book disappointed me. So far this year I've read the Best Lesbian Erotica 2014, The Big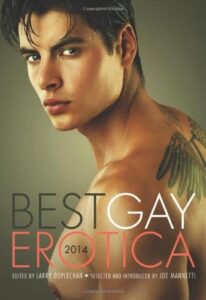 Book of Orgasms and Girl Crazy and this one was my least favorite. The Best Gay Erotica is also an anthology of short, erotic stories. As queer as I can be, I still appreciate sex, man-on-man included, but my beef (ha ha) wasn't with the story content. The stories were great and covered so many different fantasies that every reader will find the one they desire.
There was on the job sex between a man and a trans man; there was a gay man who only let people suck his dick, never the other way around, but discovered his love for a cock-stuffed throat when a security guard gave him a choice between jail and sucking dick. One of my favorite stories in the book was "My Best Friend's Dad" in which a young adult discovered that his best friend's dad, whom he had a crush on, was gay and got a peep show one night. That's a major fantasy come true and I loved it because I know so many other readers can identify with that. 
But then there was this story: "Big Thick Dick and Double-Chocolate Bubble Booty", that was unfortunate enough to have lines like this: "I want to drop to my knees and put his dick in my mouth. I would suck him so good. I would give him the best blow job ever." That writing is not on par with Cleis' other erotica anthologies. Nor is it on par with much of the rest of the book so I was surprised to find writing like that in a reputable series. It came early enough in the book to almost completely turn me off to it. I'm glad I didn't, however, because the following stories weren't nearly as bad as "Chocolate Bubble Booty."
"The One in the Middle" rocked my brain with images of "my dick spurting as I frantically sucked on my lover's tongue". The images were incredible in most of the stories, full of hard cocks, spit, lube, stretched anuses and mouth-fucking. In the instance of one story, images literally composed the story. It was a graphic novel of sorts, depicting men together, all clearly in different stages of their (for lack of a better term) gay lives. Some, after a hot sex scene, walked together hand-in-pocket while two other men who were involved shared a smile in the grocery store but nothing beyond that. 
All in all, what struck me as most thought-provoking was one author, Boot LS, who exists only online and writes erotica upon request. Which had me thinking, would you pay someone to write out your fantasy for you; to have your most personal sexual desires before you in a 750 word short story? Leave comments below!