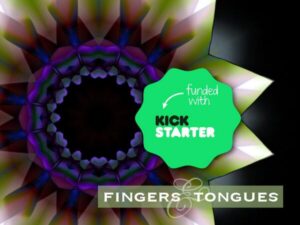 When Paola Kathuria asked me to review her erotica I was a bit worried. I've only ever reviewed erotica that's been published by a big publisher. There is rarely a connection to the author with the erotica I review and I don't have to worry about any hard feelings. I pride myself on honest reviews and I didn't want to have to give a negative review. When I read her story all my worry vanished. Her erotica is well written and engaging, significantly better than some published erotica that I've read.
Paola told me that she wants her erotica to be more arousing for the reader, more pornographic. It certainly did the job it was assigned. "Reaching for the Moon" doesn't mess around. A few sentences into the story the action begins and it doesn't slow down. There's no resolution, just a climax. A long, long climax that extends beyond the story once it's finished. The ending does something unique, it gives the reader the chance to finish the story for themselves and it stuck with me long after I finished reading.
Women's pleasure is highlighted in this story, something that is not prevalent in non-feminist porn. There's no face-fucking, no gagging on dicks, just sex. Pure, enjoyable sex. Both men and women will find this story has a desirable effect on their body. "Reaching for the Moon" is an all-encompassing erotica. There's FF, FM, and MM all in one story, ensuring that every reader will find something that turns them on.
Paola's erotica delivers what the author intended it to: a story to turn you on. Quality writing makes the story enjoyable to read and a brilliant imagination made "Moon" one of the hottest erotica short stories that I've read.