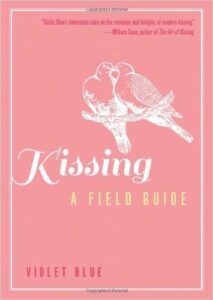 This book is adorable, from the cover to the content. It's a rather short book, at 129 pages but that doesn't detract from the quality of the book. Kissing: A Field Guide by Violet Blue covers everything from quality of kisses to kinds of kisses and the anticipation of kisses.
The one thing that bothered me about this book was the pronouns used for both kissers. It was always "He/him" and "She/her." Very heterocentric. Even though I didn't like that bit it didn't make the book not as good. It was easy for me to change the pronouns to match my sexual orientation. Kissing: A Field Guide had a quiz to help you determine what kind of kisser you are and suggests kissing games for two or a group of people (am I the only one who is reminded of high school?).
Kissing: A Field Guide was surprisingly informative. It took kissing to a whole new level; from something you do without thinking about it to an art that can be perfected. This is an exceptional guide for anyone who wants to study the art of kissing and become a master of the craft. However, it should be noted that this book is not serious. It's fun and playful and very fun to read. It's not a dense book; rather, it's set up to be an easy read. Each chapter is divided into many, many subcategories that keeps the focus of the chapter in check and keeps the writing simple.
I would recommend this book to anyone looking to become a better kisser and doesn't want a book that will put them to sleep. As a full time student I can attest that this book is good for reading during the school year, when are brains are so chalk-full of information that we can't focus on any reading that isn't light. And besides, the school year is prime time for kissing.
Thanks, Cleis Press, it was my pleasure. You can get Kissing here from Amazon.
tl;dr?
Short attention span and want to become a better kisser? This book, man. This is the book you want to read. Especially you, college students.