~or~
It Rumbles…Is That Enough?


I don't have much experience with rabbit sex toys, the only rabbit toy before this was the Oh! Rabbit, though I went on to review several others. This toy didn't sit well with me. It wasn't bad per se, it was just wasn't the right fit for my body. That being said, not all of it is unimpressive. The size of that head next to the shaft is crazy big. That explains why I couldn't thrust with the fucking thing.

The Vibrations…
Were great! It came in three vibration levels: low (very rumbly), medium (rumbly) and high (buzzy). If you've been following my blog then you know that I hold rumbly toys in high prestige and frown on buzzy ones (like the ones that come with Pleasure Works vibrating dildos). In this sense the toy was good. There was one small button that controlled all three levels of vibration, it was easy to use. I like that in a toy. When I'm about to come I don't want to be fumbling around for the controls.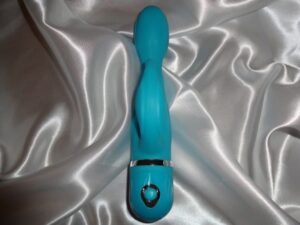 The Rabbit Ears:
Or, should I say, ear. The Dual Bliss sported one "ear" that delivered strong vibrations to the clitoris. Or should have, at least. Unfortunately the toy wasn't made for my body. I was able to take in about 3-4″ of the toy in me and the ear fell somewhere between my urethra and my clit. It didn't feel like anything special. However…

The Ass:
I had the genius idea to turn the toy the other way, with the ear stimulating my asshole. Score! I am so clever. I was even able to partly insert the ear into my ass. Because it was inserted the vibrations were not as strong but they w
ere certainly stronger than when they, you know, weren't in my ass.
I found the easiest way to use this toy was to shift it side to side while it was in me. The head was just too large to thrust with. One perk of the big head was that it didn't fall out when I took my hands off of it, even when I wasn't squeezing my PC muscles. It didn't do much for g-spot stimulation for me. I was too distracted by the buzzing in my ass and I kept, for the life of me, trying to thrust in and out. It didn't exactly hurt but it wasn't comfortable either.
Unfortunately, but not unsurprising, I wasn't able to achieve orgasm with the Dual Bliss. Vaginal stimulation isn't enough for me to come. In the end I ended up pulling out the Tango to finish myself off.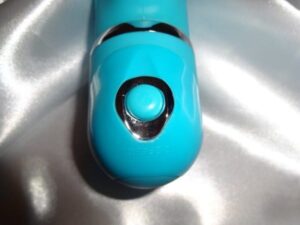 The Boring Stuff:
 5.5" x 1.5"/14 cm x 3.75 cm (shaft)
2.75" x 1"/7 cm x 2.5 cm (stimulator)
Silicone (sleeve, button) ABS/ABS with PU Cote (cap) ABS with Silver Plating (décor)
It requires two AA batteries and while I do prefer my toys to be rechargeable, I was ok with this. However, it did mean I had to make a mad, late night dash to the store to collect the goods for (what I thought would be) my orgasm of the night.

Would I recommend this toy?
That's a hard question to answer. Every body is different. While the ear didn't touch my clit just right and the head was too large to thrust, that doesn't mean everyone is going to have that problem. The only thing wrong with this toy was that it didn't fit my body. Based on the vibrations I'd say it's a "yes" if you like rumbly, hell, even if you like buzzy–just be aware that it's a very high setting. Even though the toy is relatively bendy it just was just too different from my body to bend the way I needed it to.
Thanks Cal Exotics for sending me the Dual Bliss to play with. It was kinda my pleasure 😉