~or~
Watch it Rumble!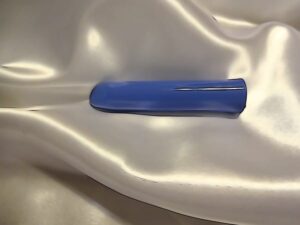 Wow. Just.Wow. I'd nearly given up on bullet vibes because the only ones I had tried were the annoying, buzzy ones that came with  the Cadet or the Mini Rippler. But the Tango is a new bullet sex toy all together. For one thing, it rumbles, no "buzzy" nonsense that my my clit hurt and go temporarily numb with too much stimulation. The perks of rumbly is that it doesn't provide too much stimulation, I can go on longer than I could with the other bullets, and it's shaped perfectly. It's basically thunder in a small body.
It's a handsome bullet, I have the blue version and am quite pleased with either color, pink or blue. It's made of ABS plastic, perfectly body safe and this rechargeable toy is  completely waterproof (perfect for squatting in the shower). It's relatively quiet, something I can use at night with music on (for good measure) or when everyone is asleep, without waking them up.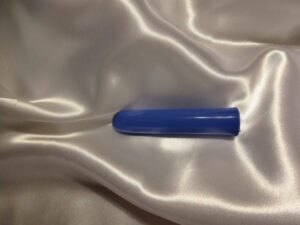 The only downside to this thunder of a bullet is the magnetic charging cord. It's precarious at best. I like to put my toys on my office chair to charge but the Tango needs to lay in the perfect position in order to charge; and it cannot be disturbed. In order for the Tango to live a long, healthy life it's recommended that you charge it for 24-36 hours before you use it. Honestly, I couldn't wait that long. I needed a good fucking and the Tango looked like it would give me that (and oh-my-bob it did). A 90 minute charge let's you play for a good two hours, with a single, simple push button to control your pleasure.
The toy has an angled tip that allows you to provide the pressure specific to your vulva, increasing the intensity of the vibrations or lowering it. It comes with five "pulsing" vibrational settings, each one increasing in intensity. The brilliant thing about the Tango is that as it increases, the bullet does not become buzzy; it rumbles all the way through.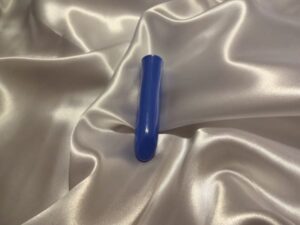 I would absolutely recommend this to my readers. Big thumbs-up to We-Vibe. Thank you Good Vibes for sending me the Tango, you can purchase it through GV here. It was my pleasure 😉