~or~
Yes, please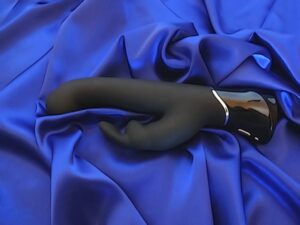 This 50 Shades Greedy Girl Rechargeable Rabbit Vibrator is just as fucking awesome (except a little more) as the Oooh Rabbit Vibrator Lovehoney sent me when I first started reviewing for them. Although this Rabbit vibe doesn't do a fun, twirly dance (dear lord–for the life of me I cannot spell the word that describes this), the two motors that pinpoint vibrations to the tip of the g-spot stimulator and clitoris (respectively) very much make up for that shortcoming.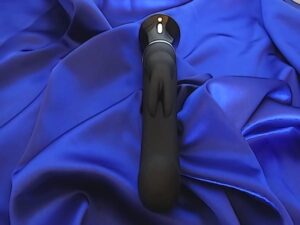 The 50 Shades of Grey rabbit vibrator is beautiful. It's pure black which makes it look incredibly elegant. It's the first black toy I've ever owned and it's beauty makes me want to gather even more toys that are this color. It's on the pricier end of the toys but I assure you, this rabbit is well worth the price tag. It's silicone which makes it one of the most body safe materials (glass and metal come are among the most body safe materials). The dramatic curve of the g-spot head is firmer than the rest of the body but that's part of what makes it so effective as a g-spotting tool. As I mentioned above, the Greedy Girl 50 Shades of Grey rabbit has a dramatic curve that's developed to hit the g-spot and it does its job wonderfully!
The silicone is flexible, allowing the toy to curve to fit your vagina. The ears of the Greedy Girl Rabbit (that really looks like the head of the rabbit–though it's surprisingly not creepy) fortunately did hit my clit though the further the toy went in me the less on pointe it was. I quickly discovered an easy fix, though. All I had to do was position the head to hit my g-spot and angle the toy up so that the rabbit ears hit lower on my body, straight at my clit.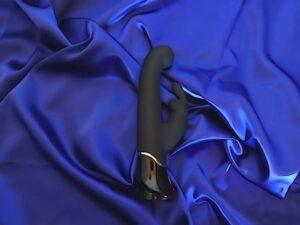 It's rechargeable! Woo hoo! I absolutely love rechargeable toys. There's a little port in the back of the base that has a flap that opens up to expose a hole that you put a charging thingy in there (I have a way with words, don't I?). It doesn't come with a wall plug but it is a USB rechargeable vibe that is wonderful for me because I love plugging in a new toy to my computer and watching it charge as I go about my school work, with a vibrator right beside me! For 120 minutes of charge you get 60 minutes of play, more than enough for someone like me who gets off at the speed of sound. It comes with a nice satin bag for safe storage, though you needn't worry about it soaking up anything from another toy because it's silicone and non-porous. I should also mention that the silicone is truly velvety soft, as the Lovehoney page claims.
There are a whopping 9 patterns and 3 speeds to this rabbit vibrator. Nearly every single one of the patterns did the job for me, which is surprising. Part of what made those patterns effective was the fact that I was able to adjust the speed of the thick rabbit ears. On a lower setting the vibrations were more rumbly–my favorite kind of vibration–though on the second and third setting the vibrations got progressively more buzzy, which may not be a problem for everyone. Another shocker was that the second speed worked just fine with me as well, something I didn't expect. You'll hear me complain about the buzzy, one-speed bullets that come with Pleasure Works toys and too many other buzzy toys but this rabbit's buzzes did the job for me–and fast!
Lovehoney's page on the Greedy Girl Rabbit says that the vibrations are "whisper-quiet" something that is true on the first-speed setting, though not for the second and third. However, although they were not "whisper-quiet" they were not nearly as loud as some of the other (ooo) toys I've reviewed. It may look like a scary toy, given the fact that it is 9 inches long but the insertable length of the toy is 5.25 inches and the same in diameter, hardly something to stress about. I'm not quite sure what Lovehoney means when they say that the toy is travel-friendly given that the buttons are easily pressed so it's not quite safe to roll around in your suitcase and it probs wouldn't hold up in a (awkward!) TSA inspection. Regardless, this rabbit does it's job.
Oh! Oh man, it's waterproof. I can't tell you how exciting it is to have a waterproof rabbit. While I wouldn't submerge it underwater and penetrate myself, it is great fun to take it in the shower and have my way with that sweet, black thing.
TL;DR? Highly recommend this 50 Shades Rabbit for it's two powerful motors, thick rabbit ears, and dramatic g-spot curve.
Thank you, Lovehoney, for sending me this rabbit for review. It was def my pleasure 😉 Click on the banner below to get yourself and/or your lover the 50 Shades of Grey Greedy Girl Rabbit Vibrator. You won't regret it, I assure you of that.