~or~
Did that go all the way to my stomach?
I've been having the most terrible luck when it comes to my Tantus butt review items. There was one I hated and ones–that were anal-safe dildos–that I was not in love with but ones that I didn't hate as much as the Little Flirt. Fortunately, I can say that my luck may be turning toward the better when I receive the Uncut #1 in the mail any day now. Right now it's something that I'm giving away and it's gotten glowing reviews so I felt confident that it's a toy worthy of my massive giveaway.
It's been quite a while since I was given the Perfect Plug Kit so it's well time I review it. I was putting it off because I had a shitty (literally) experience with an awesome butt plug  (note to self and all: poop before inserting butt plug).
I'm going to start off with telling you about The Good aspects of this toy:
The most obvious is that it's silicone, a quality, body-safe material that you can feel confident that you're putting something good up your ass. The firmness of the silicone was incredibly stiff along the bumps, so still that it couldn't be bent.Tantus markets this toy as having "velvety" soft silicone and that much is true. I couldn't stop petting that thang because it felt soooo good to touch.That made for easy insertion as long as there was a bullet of some sort in the neck, making it (almost) as firm as the bumps on the head/shaft.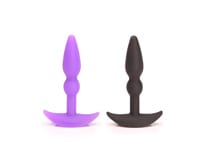 And, uh, purple, you guys. Purple is an awesome color, the color of every single one of the Tantus toys I've been given for review. I thought this is particularly a fun color because it's matte, the exact opposite of the rest of the toys. And, if purple ain't your thang, it also comes in black, a color that is something most people may find attractive (that was a huge overgeneralization, yet I kept it).
Insertion–with plenty of lube–was a walk in the park. For the smallest toy, the taper has a dramatic head and much smaller bumps than the larger size. For the larger toy, as long as I had warmed up, sticking it up my anus was just as easy. Without a warm up, however, with my tight, stubborn ass, it was a bit more difficult, though not nearly enough so that I couldn't stuff it up my ass with pain.
There were two large bumps that felt super-fucking-awesome with the ease of insertion but made the bigger size feel even larger than the small. However, the bumps on the small weren't so difficult that they would make it under all le "The Bad." Rather, something else of the bumps did, so stay tuned for "The Bad."
Okay, so, the small and the large have a fucking massive size difference. This kit would have been better with a medium, much smaller than the Perfect Plug Plus. The small Perfect Plug is significantly smaller than the large, which did leave me with a small (har har) problem. However, with the bumps on both toys, I had a quite pleasurable experience inserting and taking out the toy(s).
And, omg, bullet vibe, you guys. The small is def too small but the large is so much more massive than the small that a bullet can fit comfortably in the base of the toy. (That's how fucking large the difference between the steps are.) The bullet is a buzzy thing but, fortunately, my Tango fit in the bullet hole just fine, and I was still able to receive pleasure from the bullet hole (see what I did there?).
With all the "Bad" I'm putting into my reviews, I wouldn't be surprised if Tantus is like, NOPE, no more OHB for us! Regardless, I'm going to be honest with you all because you're here to find out from me whether or not you should get this toy.
Both of the toys were so fucking long that it must have reached all the way to my belly button.  I hate hate hate long butt toys. I actually didn't really notice that that's something that bothers me until this review. Now I know what I like and what I don't and I'll keep that in mind if/when I accept more butt toys. Was that a flaw on the part of Tantus? Not at all, but it still is going into "The Bad" because, for me, this aspect of the toy was not a pleasurable experience for my body. Now, if that's something that you like or something that you are interested in trying, go ahead and continue to read to make sure this is the right toy for you; don't be dissuade right now.
I would warn you that the next paragraph is TMI but, come on, I write about jacking off and sticking things inside of me that my entire blog is TMI.  Here it goes: I've noticed that most butt toys make me feel like I have to poop. The Perfect Plug Kit was no exception. Does that mean you'll have the same experience? I'm actually not quite sure about that. I've found that this is a constant with all my butt toys so it may just be my anatomy, not necessarily an issue with the toy itself. So, please, take this with a semi grain of salt if this has never been an issue for you, I'm thinking this is just how my ass behaves when I stick something up there.
I mentioned that I liked the option of having a bullet in the toy; however, I don't like the option of having Tantus' bullet in my butt plug. Easy fix for that, like I said, just use the bullet that you like the best. And if you like buzzy, then stick with their bullet vibe.
Now, when I took out the bullet I was left with a flimsy neck that made it difficult to insert up my ass. Not cool, but that was before I had the genius idea to use my Tango. The Tango made all the difference and I was uber-happy that Tantus gave me the option to remove their bullet. Unlike the little flirt, the Perfect plugs did not slip out, even though
To Note: 
You should use a shitton of lube since the your ass is not self-lubricating like vagina's are, and you shouldn't use silicone lube without testing it on a piece of your toy first. In more cases than not, the silicone lube could damage your toy. Water-based lubes are a safer bet. However, I've found that the hybrid Spunk Lube I've used on silicone toys has not damaged them at all. Here's to hoping it never does *raises glass*.
Would I recommend these toys for you to buy, and who would like this toy?
Because of the difference between the two plugs in this kit, you need to weight the pros and cons carefully before you decide to buy the kit. For me, someone who is (slightly) accustomed to using a butt toy, I had some difficulty using the large plug, even though I was able to make it work. It wasn't as comfortable as I would have liked but as a reviewer I am open (see what I did there?) to using most sizes of butt plugs. These ones were just too long. However, you may like this length, so that's something to consider.
If length ain't yo thang, then you may have more luck with this.
You can get the kit from Tantus on their lovely site. Thank you, Tantus, for sending this toy to me for review. I think I'm going to stick to anal safe dildos from now on 😉
As usual, if there's something you'd like me to review feel free to request it, or, you could check out my wishlist.