~or~
The Rabbit that kept on Hoppin'

Let me begin: One of the things I love most in my blogging life is when I come across a toy that has pretty much nothing wrong with it. The Tracey Cox Supersex USB Rechargeable Rabbit Vibrator (try saying that ten times fast–you'll finish in a few weeks) is similar to the Greedy Girl Rabbit vibe that I reviewed and loved a few months ago. When I first saw this rabbit I was thrilled, I knew it was going to be something pleasant to review, even if the rabbit ears didn't work with my body.
Something to note: just because the rabbit ears don't work for me, doesn't mean that it's a shitty toy. It just means that my body was not made for this toy (or would it be that the toy isn't made for my body?) but it may very well work for you. I actually really like that about rabbits. It may make the review difficult to write because I need to convey that it just doesn't work for me but with any good one, I can assure you that it'll be perfect for one or more of my readers. My job is to make it easy for you to determine which one will work for you.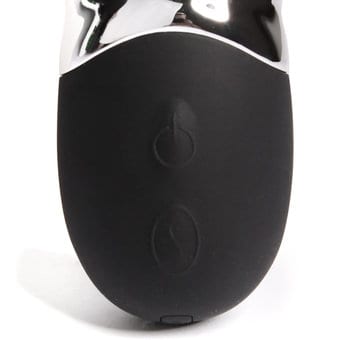 The Good:
It's black. That's classy as fuck, man. I don't know why but I find black toys to be quite attractive. They're different from the pink and purple toys that dominate the sex toy industry, and, I can see my girly juice all over them. I can't tell you why I like that, I suppose it's because it reminds me that I am a woman who is in charge of my sexuality.
The silicone is silky smooth, making it quite comfy to insert, though I did have to use quite a bit of lube.
When I clenched it fucking rocked. I was able to systematically clench and release and with each clench, the Supersex Rabbit hit my g-spot. When I became frustrated that the rabbit ears weren't hitting me quite right I took out my Magic Wand Rechargeable and Jill-off with that while I clenched and released. Here's the deal: a lot of the time when I review a vibe I end up finishing myself off with either the Magic Wand or the Tango. That doesn't necessarily mean that the toys vibrations suck ass. Rather, it means that I just can't fucking wait to come with it. What's most important to me as a reviewer is that I try it mindfully; I take notes and explore the toy (literally) inside  and outside.
I don't have to reach orgasm with the toy itself, as long as I've taken extensive notes and gave it a good two or three tries, I feel comfortable reviewing the toy without it bringing me to orgasm. For me, masturbation is often a spiritual journey, a time where I explore my body and take back my sexuality, and orgasm is not necessary for me to enjoy the jack off session. I've found that rabbits are quite useful for this experience, given that they stimulate my body both internally and externally, as well as several points within my vag.
Some reviewers have trouble with having a g-spotter hit their pubic bones. Fortunately, I am not one of them but that means I can't tell you if you may find it uncomfortable. Read Beck's explanation, that'll shed some light one what I'm talking about.
I was quite excited about this: the toy is legit "whisper quiet!" Too many toys claim that theirs is like this but they full of shit, yo. This toy isn't. I didn't have to wait for my roommate to go to her boyfriend's house because this toy was quiet enough that there was no risk of anything awkward happening.
Honestly, though, I found it more stimulating than the Greedy Girl or the Oh! Rabbit by Lovehoney in terms of the ears. The vibrations, while buzzy, did not make my clit feel like I had a giant itch I couldn't scratch; that's all too common in the vibes that I've used.
It was a great warm-up toy and an internal stimulator to get me close and a wonderful filler while I came. Clenching was the icing on the cake and it brought me the most pleasure.
The Bad (or, rather, what it's missing): 
There aren't motors in the shaft of the toy, which was somewhat disappointing. When I was applying pressure–angling it upward, for instance–the vibrations were muffled. Not totally gone, but not quite as strong as I would have liked.
Tracey Cox says that it's designed to bring the user to orgasm with little or no effort. While that may be true for some, I was too impatient to put up with how long that was taking. Because the rabbit ears and the length of the toy weren't perfect for my body, it did require some effort to bring myself close to orgasm, but, as I've said, that doesn't mean it won't for you.
Other than that, I had to maneuver my clit with my hand to get the most pleasure but for a great part of that time I could do without touching myself and angling it down (unfortunately that meant that the pressure on my g-spot wasn't as noticeable.
Other than that, with one of them being relative, there isn't anything I didn't like about this toy, which was a pleasant happenstance.

Let's get physical! 
Let's address some boring shit here:
That packaging, I suppose that really isn't too boring, is fucking beautiful. It's black just like the toy and depicts a woman and a man in an eye-closing, mouth-opening embrace. Honestly, I would have preferred just the picture of the toy (or a picture of two women!) but the packaging didn't detract from the awesomeness of the toy.
The specs aren't listed on the packaging but, no fear my fellow readers, everything you need to know is listed on Lovehoney's site on the info of the toy they provide. If you're not feeling up to clicking on that link, I'll summarize for you:
4″ Insertable
8.5″ Long
4.25″ Circumference
Also, woo hoo rechargeable!
The toy has two speeds and five patterns, I found the BOOM pause BOOM pattern to be quite enjoyable. The Supersex Rabbit has a firm head and while Lovehoney's site says that it's a firm vibe, the shaft is still easily maneuverable.
The buttons are effortless to press and to navigate, something I very much appreciate in a toy that has multiple patterns and speeds. I don't want to have to stop jacking off to press buttons to bring me closer to orgasm. Masturbating shouldn't be that difficult (says the woman who takes notes as she jacks off).

Who would like this toy? Would I recommend it? 
Someone with a pubic bone that isn't painful with a g-spot vibe would enjoy this toy. That being said, the curve isn't too intense. Because I love g-spot stimulation, I'm all for this toy and I'm hesitant to comment on the curve of the toy because it works for me. As I see reviews pop up on the web I'll link them here so that you can get a second opinion.
Do you have any questions for me? Let me know what you'd like me to review next or tell me if you think this is the right rabbit for you. Click on the banner below to visit Lovehoney's site, or click here for the direct link to the Supersex Rabbit.
 Buying from the links above gets me moar toys, at no extra cost to you, which is pretty awesome (if I do say so myself. And I do).