~Or~
What what, in the butt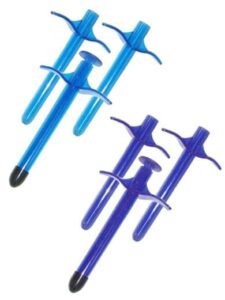 Note: Since publication, Good Vibes has stopped carrying Sliquid H2O.
Let me begin: August was anal month, a theme started by Good Vibrations that made me excited to stick things in my ass. I've never tried silicone lube before because most of my toys are silicone, so I jumped up and down with excitement when Good Vibes told me that they would be sending me some lube and lube shooters to review.
I was given three lubes: Please, a silicone lube; Slippery Stuff, a Personal Lubricant Gel; and Sliquid, another personal lubricating gel.
Let's get up close and personal: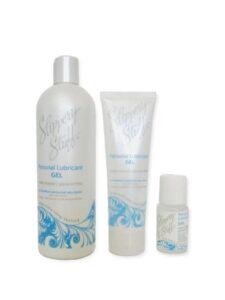 Slippery Stuff was the first quality lube I bought, and it happened right before I became a reviewer. I had a loyalty card and a gift card so, after testing it on my fingers, I bought the biggest bottle GV offered. Since then it's my go-to lube.
Where some lubes get sticky (*cough* Sliquid *cough*), Slipper Stuff does not. It goes and goes and keeps me coming. The nice thing about this lubricant is that it's a water-based lube so it's good with any toy material you want to stick up you or give yourself a nice, slipper surface to stimulate your clit or your dick. Slippery Stuff comes in a squirt bottle or a squeezy bottle (so a word…now) and it is truly a gel, which makes it last longer.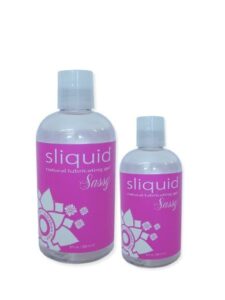 NOTE: Since publication, Good Vibes stopped carrying the Sliquid Sassy.
That being said, Sliquid claims it's a gel but that thing is more liquidy than gel-like. I honestly didn't even know it was marketed as a gel lubricant until I read the label.
By far Slippery Stuff excels at the whole gel thing. Sliquid, too, is a water-based lube which makes it an excellent lube to use on your genitals. Kinda. Except for the fact that it got sticky, something I wasn't expecting. However, like Slippery stuff, it is hypoallergenic and fragrance-free, which means it's shouldn't be irritating, at least it wasn't for me.
It's interesting, the label says that you can try water to reactivate the lube that's being used. I've never run across that before. I tried that out and I kept using too much water. It's a hard lube to balance with something intended to come off with water. (I'm thinking this is an acquired skill.)
Used anally it was still sticky. I'm not sure why I expected it to be different when I used it in my vag then ass (never the other way around please!) but it wasn't. I still had the same, sticky response.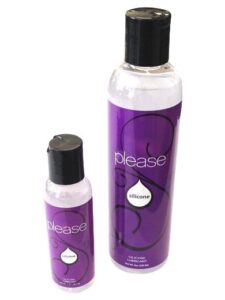 Please, on the other hand, did not suffer from that same ailment. Before I continue I want to note that silicone lube is most likely not compatible with silicone toys. Something science happens that can damage the toy. It is my first silicone lube, I wasn't sure what I expect. I'd heard that it lasts longer and it more fitting to anal play so that's what I did. Because I don't have any silicone-safe toys that are ass compatible, I chose to use it vaginally with a clay toy that I got from an Indie artist on Etsy and I explored my ass with my fingers and silicone lube.
Good Vibrations also sent me two Lube Shooters, a gadget that I had never tried before. I've seen it in porn once so I knew what to expect. I loaded that fucker up with water-based lube and I shoved the Tantus Perfect Plug Large up in me. It worked like a charm, the shooter being 5″ in length made it certain that my whole anus was lubed up and ready for toys. As you know, with me and butt plugs, they give me an overwhelming urge to poop and the lube shooter surprised me. I wasn't expecting the need to take a shit with just the lube in me but that's what happened. I had to sit down on the toilet the first time I injected my ass with lube. The lube came flying out at me. And it didn't stop. Lube kept coming out of me long after I took the butt plug out.
That being said, it wasn't half bad. The lube shooters did their job and made sure that my ass was well taken care of. The butt toys went in with ease and came out the same way they went in (which is a major plus, I'd be very worried if they didn't). I only used each shooter once, I didn't trust them to be washed and then used again, especially considering that there was a large opening where the lube was loaded. They went too far up my ass for comfort and I dipped the shooter into my lube bottle. It irked me that there was only one plunger for three cases. Like I said before, I don't want to reuse anything that goes so far in my ass and has an opening where gunk can get stuck. But you know what? They get the job done, as advertised. 
Who would like this toy? Anyone who plans on sticking anything up their butt and wants a clean entry. I've found that when I stick a lubed finger up my butt and apply lube to the top of the toy a lot of the lube gets lost. With the lube shooters, my butt was prepared for the toy. I didn't have to do anything other than getting the plunger full of lube, insert it, and put on my game face! As for the lube? Two of the three were great and that's saying something. Please was a silicone lube and Slippery Stuff was a water-based gel, which gives you two great, different options.
TL;DR?
Loved two of the three lubes (Slippery Stuff and Please Silicone Lube) and the lube shooter was effective at filling my ass with liquid.
Good Vibes, thank you so much for sending me these anal accessories. It truly was my pleasure and I look forward to sticking more of your products in my body.