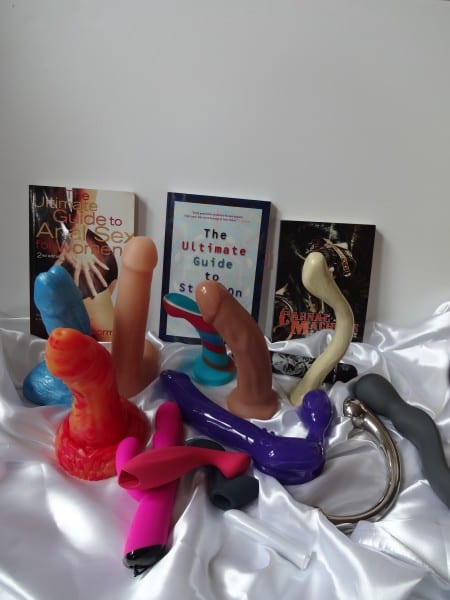 A lot has happened in the past two months or so, and pretty much none of it has to do with this blog. However, it's my responsibility–as a sex blogger–to give you content to look at and look forward to. Soooooooooo, here's my plan:
I'll post one review a week and a recap and/or a preview of the week. I'll also be revising old sex toy reviews, once a week as well. (Gotta make this blog pretty, don't I?) I encourage you all to follow my blog via RSS, email, Twitter, Facebook, ect. because I'm going to try to do giveaways regularly. I'm actually going to write in my paper planner when to post a review and what it's going to be of.
I'm curious: How many of you like reviews of erotica? I have several anthologies right now including Steampunk erotica and sex toy erotica. I haven't been reading them though. However, I needs me a good jacking off material so I'll make it a priority to read before le bedtime.
I've received a few toys in the mail since the last time I updated my "Upcumming Reviews" (see the list to the right of this post and the picture above.) One of them was the (grey) Lover's Wand by Cal Exotics, something I've I've actually been using over my (Hitachi) Rechargeable Magic Wand.  I recently splurged on some satin in all sorts of colors to take pictures of the toys with. 'Cause classy and shit. You will soon have attractive photos of the thingy-ma-bobbers.
I was actually contacted by several sexy toy shops wanting me to review for them. I had to turn them down because I has way too many toys to fuck. It's going to take me quite a while to get through all of them o.O
Jack off update: 
I recently discovered that I like "Women peeing in public" porn. Up until a few weeks ago, I really thought porn did absolutely nothing for me. Wrong, bro, wrong. Now I know what I like and what gets me off and fucking myself is a lot more pleasurable and fun.
I look forward to writing more and helping you figure out what your sexual body needs. With that being said, go fuck yourself!