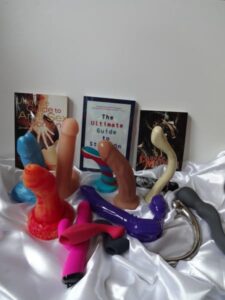 I've been gone for quite a while now, which means I have many, many sex toys that need to be reviewed. Tomorrow I'm back in the game and I have some awesome reviews to share with you.
Here's what's going to be new:
Continuation of "Unusual Sex Toy Series" and a revamping of the name 'cause this one is plain ol' boring, isn't it? Any suggestions?
I'll be writing weekly sex toy erotica pieces because sexy-time and I have all this jacking off to do and I don't cover everything in my review. Maybe it'll be a real experience of mine, maybe it's going to be something way off the train track that I'm tripping over.
I need to get caught up on toy reviews, so here are the most pressing reviews:

Stockroom's "Neon Wand"
Lovehoney's "Motorhead Vibrator"
A clay dildo from an indie artist on Etsy: Dilly Dally Dildos

I'm super excited about these:

A new Bad Dragon toy (have yet to design it)
Further fucking on my Mimi thanks to Beck and Her Kinks
Alien dildo from Fleshlight
The Pure Wand from Patsy Sue

And, finally, everything that is also going to get reviewed, in no particular order:

Exotic Erotics Hippocampus
Spunk Lube (Pink, Hybrid, Silicone)
Blush Novelties Real Nudes (Ergo)
Tantus:

Gary
Feeldoe
Uncut #1 (when it arrives)

Sneaky Sack
We-Vibe Pleasure Mates Kit (Loved the Tango, thrilled to have it in white as well)
Grey Lover's Wand by Cal Exotics
BS Dildo
I'm also wondering what memes you all would like to see or what kind of pictures or toy reviews. If you'll excuse me, I'm going to go jack off now.