~or~
Yes, please; More please

She's back! Guess who has the first review in a long time for you? (I do, in case there was any question about it.) Today I'll be bringing out a review of Cal Exotic Novelties sex toy "Lover's Wand."
You know how I love my Tango, and my (Hitachi) Magic Wand and–you will eventually find out–my Mimi? This is one of my favorite vibrators/massagers. Quite honestly, I didn't expect something this awesome from Cal Exotics, after all, they did make this rabbit  which was a major bust for my body. Well, props to them for making something this fantastic! I found it quite refreshing that it came in colors other than pink and purple, the seemingly go-to colors for sex toys for the clit and all things vagina. While I favor black in sex toys, the grey was an awesome color choice (and I knew it'd look awesome with my gold satin cloth thingy).
Let's go over The Awesomeness: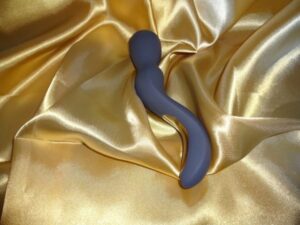 I've said this in other reviews but THIS. THIS is the awesomeness–the vibrations, the color, the patterns. I've found that I'm not a huge fan of patterns, usually I don't mess with them more than once but these patterns were super-fucking-fabulous. I recently discovered that I like porn of women peeing in public, something I knew was a kink IRL but it never occurred to me to watch it in porn. It was with this wand that I discovered how well watching women pee gets me off. This wand will always hold a special place against my clit (and in my heart).
There are patterns, lots and lots of patterns and I loved all of them with emphasis on the "heartbeat" pattern (you know what a heartbeat sounds like, right? It's that one). The power of this wand was wild, packing just as much punch as the middle setting (or so) of the Magic Wand Rechargeable, which is saying a whole fucking lot. Once upon a time I said that the Tango and the Hitachi are my fave vibes; whelp, this one just joined the club.
This toy is completely waterproof, something that I was nervous about because of how it's charged. There's a tiny little hole in the silicone that opens up when you shove the charging part of the charging cord to…charge it. THE WORD CHARGE ONE MORE TIME. Regardless, both the box, the instruction manual, and the website assure me that it's waterproof. The toy assures me, too, by it still working and whatnot.
The Lover's Wand saves the last pattern/speed/intensity that you were using before you shut it and and it shuts off with the quick push of a button, something more sex toys need to be able to do, that's for sure. Outside of the box this toy would be turned on in your luggage carrier through the airport security but inside the box it's just plain classy. As fuck. (Heard me say that often enough yet?)
While I wouldn't call the silicone "luxurious" I still fucking loved it like I love food. (And air. Air's nice, too.) This wand is also rechargeable, let's all give Cal Exotics a big HUZZAH! for being Earth-friendly (with this toy, at least). I loved the handle of this toy, it was curved in a really weird way that made it perfect for jacking off without hurting my wrists, something that is always appreciated.
The Lover's (Embrace) Wand is now what I would call my "sure-fire orgasm toy," a toy that will get me off quickly and reliably, though that may not be the case in a flare-up of anorgasmia. It's strong enough to be used through panties or–if I wore jeans–I'd wager a guess that you could feel this thing through jeans just like the Hitachi. Though I didn't try it with a partner I want to note that with the ergonomics of this toy, it'd be a great one to use with a partner.
A note about the vibrations: They are not buzzy at the lowest two levels, nor are they rumbly; but that changes as you go up intensity. They become more buzzy, that is. One of the benefits of having the buttons on the handle be covered in silicone is that it can get covered in lube and girly juice without becoming damaged. WIN.
Let's go over The Unfortunateness:
The shipping label on the cover of my package declared that it was from "Cal Exotics" and included the "Lover's Wand-Grey." Not cool, so so not cool. I've addressed this issue with Cal Exotics and they didn't know anything about this, let's hope it was a fluke and I'm sure this won't happen again, right? I mean, I'm not shy about this stuff, but the problem with being an attractive woman is that I'd get creepers coming at me if anyone saw something like this be delivered like this to my house. Our house. My roommates would die of embarrassment had I not gotten to it before it
There's also the issue of having to go through all thirty intensity/patterns before you can get back to the plain ol' boring, steady vibrations.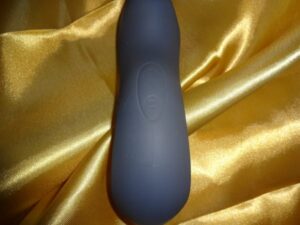 Let's Get Physical:
 The packaging is classy as fuck. It comes in a sturdy black box in a black sleeve, boasting that it's the "Embrace Lover's Wand" with a picture and every fact about this toy that you could (and would) ever want. Although this wand is plenty sturdy, I'll be keeping the box because I'm a classy bitch.
Complete charge in 2.5 hours
Massager will run for 1 hour on high speed, 1.5 hours on low speed
Silicone (massager) ABS with Silver Plating (décor)
Would I suggest you get this sex toy?
Words–nor my clit–can adequately tell you how wonderful this toy is, so all I'm going to say is YES.
Cal Exotics, after this toy I can say that my panties are going to be wet by the time you send me over another toy (SO HURRY).