~or~
FUCK YEAH, I Got that Brazen Bitch in Me
After reviewing two dual-density dildos, and having one in my TBR (to be reviewed) list, I can say with full confidence that Adam O2 dual-density dildo by Tantus isn't a thing like them. Now, Tantus knows what they're doing–they've proven time and time again that they are a toy manufacturer to be trusted, and they are one of my favorite sex toy peeps. They've been around a long while and they're damn good at what they do. For me, though, Adam doesn't cut it as a dual-density toy, however, it does cut it as a nice, girthy, well-made, trusted silicone dildo (wow, that was wordy).
Let's explore the positive aspects of the toy:
The only thing dual-density about it is that the head is nice and squishy and there's some soft outer something or other on the sides of the toy, though it's barely noticeable with the super-thick inner solid core underneath it. The rest is firm with no give so that it feels like it's a plain ol' firm silicone dildo. Unlike the Mustang or the Nudes by Blush Novelties, Adam O2 doesn't flex easily at all, so it felt as big as it truly was. The nice thing, one of the many, is that Adam is a pseudo average toy. It's on the slightly larger side, at 7" long. Though it is no Bad Dragon toy, or the Maverick, it still made me feel full—which was pleasant once it was in and stationary, and a tad bit painful going in.
I'm going to give it to Adam that I don't really remember what penises feel like, though when I had a friend of mine come over he said that the Gary felt least like a penis and the Mustang the most, with Blush Novelties coming in a close second . Does that deter me from this toy? Not at all. Adam O2 gives me a wonderful sense of full, something you will have noticed by now that I very much appreciate, and I was thrilled to have a Tantus toy that does such. 
I've reviewed three butt plugs and two dildos by Tantus and all of them were just "meh," which wasn't a bad thing at all. As for the price, it's just like most pure silicone toys—though you're sure to get a good quality sex toy with Tantus' Adam.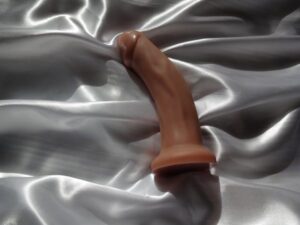 Performance:
Adam behaves like any silicone dildo would that's as large as it is–it filled me up. During my uses of Adam I compared it to the Pure Wand and found that it almost had as half as much as the wand did against my g-spot. My theory is that the slighter curve than the Pure Wand worked well because of it's girth.
However, the not-quite-dual-density toy doesn't make it at all less pleasurable than it ordinarily would have been had it not been marketed as dual density. The fact that it's "O2" is a side matter, something to be acknowledged but not something to look forward to.
Now, let's see what would work better for my body—and possibly yours: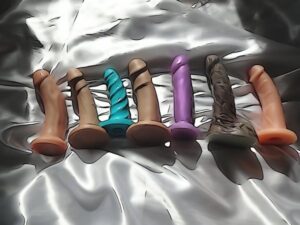 Quite honestly, there's not much I would like to better or other toys that I'd choose over this one. The safe way to go about this, for my body, would be to start with something smaller—like the Mustang, Cadet, Zombie Dildo or the Mini Rippler; then tackle Adam O2. You'll note (by reading my review) that the Zombie dildo quite a bit longer than the Adam. This didn't deter me from the toy. While you can't adjust the girth–which is why I'm suggesting you start with something that is less girthy (totes a word now)–you can control how shallow or deep you want to thrust with a longer dildo. 
Adam O2 dual-density dildo actually surprised me. I've found that by now I shouldn't be surprised when a larger toy with a head hits my G-spot, and I'm finding it difficult to describe each instance differently. You're probs thinking right now that I'm going to come out and say that the Gary is special. Well, it is, considering that it's a wanna-be dual density toy–one that doesn't fit the dual-density bill but still hits me in the right spot. I'm excited to review more of Tantus' dual-density toys like the Uncut O2 or the Flurry O2 (cough *TANTUS* cough). Let me know below if there's any toys of Tantus' that you'd like to see reviewed.
On that note, if you like Tantus or want to try something less intense I'd recommend giving the Tantus Purr or the Vamp a good try. The Vamp proved itself to be worthy of my G-Spot though not as intense as Adam O2. On that note, if you want something more realistic, I'd suggest a Vixskin dildo while I work on fucking the rest of the O2 line–then come back and read all about it!
Something Fun from Tantus
Something super-duper fun that I try to include in my posts is that there's this wonderful thingy-ma-bober called the "Grab Bag." Included are some super randomly colored toys that as just the same quality and density, there is just the possibility you may not get the color of your choice. But, hey, to me it's not about the color of the toy, it's about the functionality. I may not like some of the realistic colored toys that I've reviewed but that didn't detract from my rave(ish) rating of them. The banner below will send you to the wonderful world of Tantus, where you can buy your own dildos to have as much fun with as I did with Adam.
Now, go fuck yourself!
If you liked this review, please consider buying your next toy from one of my affiliates. I love them all and can vouch for them. A small portion of the sale will go toward keeping this blog up and running. Your help is much appreciated.