~or~
OMG MY VAGINA
Did I get your attention? The Stronic Zwei by Fun Factory got mine; not only that but it also required three pages of notes in order to make sure that you know how wonderful this toy is. I swear, this toy will be the one that makes me ejaculate.
I'm going to start by telling you about my experience with this toy;
all three pages of notes that I took. When I was dating a man his fingers couldn't go as fast or as hard as this toy goes. You know how people say that toys are better than a person; or, alternatively that toys can't replace a human. You know what? This toy can. I hate to say that but it's true, just like the Mona totally beats my fingers. Sure, fingers know exactly what you want, but that's why I love vibes like the Mona and the Mimi soft, they don't know exactly what I want, so masturbating becomes a sport, with the ending being as good as ten home runs in a row. (I don't watch baseball, I have no idea if that made sense but I'm going to keep it BECAUSE I TOOK THE TIME TO WRITE THAT).
Now, don't get me wrong, I wouldn't choose a toy over a human; but this is the only thing I have right now, toys. I'm not dating/fucking anyone so it's a massive relief that I have toys, so many that I don't know which ones to choose so I end up using 7 of them in one session.
The Stronic Zwei gave me that famous oh-my-god-I-have-to-pee-like-now! feeling. Did I ejaculate? No, a large part because I was worried I was going to pee. If you follow me on Twitter then you know that I have a pee fetish, but peeing through my bed sheets was not something I wanted to do, so I held it in. I know, I know, that's what it feels like when you're about to ejaculate but it was just too much. The Zwei on low was perfectly acceptable, however, the longer the session went the faster I wanted my g-spot stimulated. I came before I could figure out if I could come with the Zwei and no clit stimulation. It's not especially common but I'm pretty damn sure it can happen one of these days with this toy.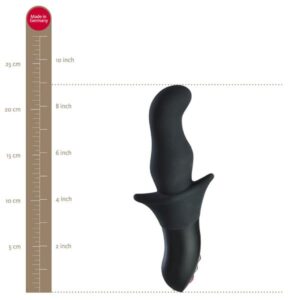 How Was the Size, Bro?
You'll notice in my video that I didn't use it past the second bump, that's because it hit me in the right spot without inserting all the way. I did give it a try, shoving the whole Zwei in me, but I decided to go with comfort and stuck to what felt good, not what I thought should feel good; not how Fun Factory planned it to be pleasurable. And that ain't a bad thing. I love it when toys have extra space for me to use. I typically don't use toys more than 2, maybe 3 inches inside of me but it allows me to feel pleasure on days where I want something larger/longer, too. That's a large part (see what I did there?) of why I request larger toys that I know I won't use the full length; because I want everyone to be able to enjoy this toy or that toy, no matter the length.
Now, girth is another issue entirely. I couldn't even get my hand around the second hump, part of the reason I chose not to insert it that far in me. The girth of the toy and the fact that it suddenly gets larger is not an issue for me, who does better with less girthy toys, and my readers that like larger toys.
So, it's a pulsator, not a vibrator? What's that?
Fun Factory calls the Stronic line "pulsators" for a very good reason–it sums up the toy in one word and doesn't allow anyone to be led astray. While vibrations stimulate my clit in the most wonderful way, provided they're less buzzy and more rumbly, having a toy that thrusts for my lazy ass is wonderful. In the video I showed you the toy in action without my hands touching the pulsator. I stuck it comfortably in me and let the toy do the job I was way too lazy to do myself–not to mention I would never be able to thrust as quickly as the Stronic Zwei did for me.
Now, I'm not saying it can take the place of your partner's fingers. Rather, it can aid ones' fingers and become part of the fucking/love making/sexy time. For me, with no partner, it leaves me feeling totally satisfied. As a pulsator it allows me the freedom to stimulate my clit as I'd like, with either my fingers or another toy; that way I'm able to experience pleasure in my vag, with the toy thrusting against my g-spot, which gave me a hand controlling a vibe and my other hand had the freedom to shove a finger up my ass.
Let's explore what I didn't like
Uh, nothing. I kid you not, I loved everything about this toy. I loved that the buttons were easy to navigate, that it turned off as soon as I depressed one button for a second, instead of making me hold the button down, hoping that it would turn off before my roommate walked by my room. On that note…
It's also a nearly-silent toy. You can hear the magnets move inside of the toy but it's an incredibly quiet, and it doesn't sound like a vibrator at all. Rather, it sounds like….something that I can't quite describe. The important thing to know about this toy is that it's roommate-safe. Now, I can't say anything about the vibe you may be using at the time, but this is the perfect pairing for a blended orgasm. On top of that, the pulsating Stronic Zwei by Fun Factory has a locking mechanism, that makes it perfect for travel. Granted, I'd find a vibe or two going off while I was passing through security at the airport hilarious, but many people wouldn't be humored by something like that. So, thank you Fun Factory, for making this a toy that peeps can travel with, and for providing pleasure unlike any other toy I've.
Who would like this toy?
Peeps with a prostate or g-spot that loves intense stimulation; and possibly whose hands get tired easily. As I said above, this also leaves an extra hand free to stimulate other parts of your body while the Zwei does a large part of the work for you.
Clear your cookies, peeps, and use this affiliate link to get your own Stronic Zwei. I'll get a little bit of the affiliate sale at NO extra cost to you and I'll be able to review moar of their awesome toys for you.

If you liked this review and are interested in getting a toy in the future, please consider buying from one of my affiliates to support my blog.