~Or~
Ah, so that's what it's like to be covered in my girly-juice
Let's get started with the Fun Factory Amorino
I'm going to start off by exploring with you my first thought before using the Fun Factory Amorino. When I first saw it in Good Vibes I couldn't imagine it feeling good at all, let alone pleasurable. I was sure that the band was going to pinch me as it went in and began to vibrate. I actually put off trying that thing because I was too nervous about losing some skin. Eventually, though, I did try it and I'm pleased to tell you that my bodies' feelings for this toy are pretty neutral. Honestly, if your toy isn't going to WOW me then neutral is a pretty good place to be.  I found that I enjoyed the patterns more than the solid vibration because each position of the band during the same pattern presented itself as a new toy altogether.
I've tried another Fun Factory mini vibrator–the Flora-– that didn't suck, though it was way too small for me to experience mind-blowing power. While I didn't love their other mini vibe, this one was so unique that, although it wasn't the right size for me, I can give it the praise it deserves as a toy that will bring pleasure to many people, of all genitalia, as Fun Factory claims.
My experience with the Amorino
was pleasantly neutral. I've reviewed one other Fun Factory toys–the Stronic Zwei–that I absolutely loved. This one, however, is a g-spot vibrator, while the other one was a pulsator. Because the Amorino is a g-spot vibrator I felt obligated to try it internally. O-M-G, you guys, I quickly found out what it's like to be covered in my vag juices when I removed the Amorino. In order to change the way the band was laid out I had to take the toy out of me; and in order to experience the toy completely, it was necessary for me to insert it, remove it, change the band, then put it back in me.
The Fun Factory Amorino was supposed to stimulate my clit, labia, and g-spot. While it didn't quite fit with my body well enough to stimulate my clit at the same time, the band vibrated against my outer labia in a way that I've never felt before. It was a tad bit like an , the buziness, but it was a very unique experience given that that itch felt like it was being scratched (which is a good itch situation to be in). I would have absolutely LOVED it if it hit all three spots at once and I don't doubt that many of you will find that it gives you the triple stimulation it claims to.
The most unique sensation I felt was when I had the band set to a "figure-8." It hit my urethra and, although I'm sure it was hitting my clit, I couldn't get past the pleasant, buzzy feeling it was pressing against that sensitive part of my body. (That was a big surprise.)
One of the great things about Fun Factory toys is that they have an easy on/off lock that makes it perfect for travel, unless, of course, you're taking it on a carry on at the airport, in which case you'd have to take it out and put it on the nasty thingy that goes on the belt-thingy where they x-ray your thingies (I have a way with words, don't I?).
What did I like?
I have some good news to report! It didn't hurt. The band didn't pinch me and it was perfectly comfortable, much to my surprise (and pleasure). The size of the toy was a bit small for my body; both girth-wise and length-wise. Usually length is not a problem for me; my eyes are bigger than my vag. I always request or accept toys that are way too long for me but that doesn't generally bother me because with length you have more control over the performance, as opposed to girth which you can't do a thing about. Whelp, this time it wasn't girthy enough or lengthy enough. However, it was a perfectly acceptable started vibrator.
What I Didn't Like
One of the main problems my body had with it is that it was buzzy. If you explore my site enough you'll know that I don't like buzzy, I want rumbles. The vibrations themselves were actually quite powerful. It wasn't (Hitachi) Magic Wand powerful but they were strong enough to pleasure me with whatever way the band was placed.
Now, I'm not going to lie, this toy doesn't compare to the Mona or the Tango, or the Mimi (review won't come for a long while) but it was so unique that I don't care. Some people like buzzy, other people like rumbly. Just keep in mind that this is far from rumbly, though it is plenty powerful.
Here's the main deal-i-o with the Fun Factory Amorino. It was messy. You're going to need a towel under you and beside you to wipe your girly juice off of your face. While messy can be fun (I'd love to get a partners juice all over me, I kid you not) I don't want to have to deal with that every flippin' time I jack off.
The Boring Stuff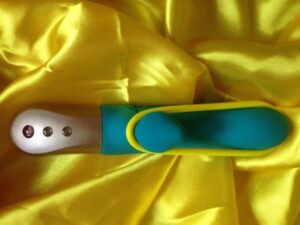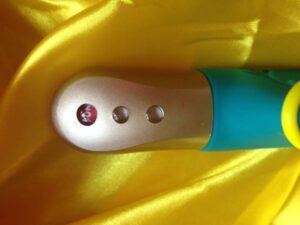 The Fun Factory Amorino is a "dual-action" silicone, g-spot vibrator. Because of its clit-stimulator (speaking from the body of a cis-woman) it is also anal-safe, though it wasn't something I cared to explore (I had a shitty–pun intended–experience a while back with a butt toy that left me scarred). The Amorino is rechargeable with six speeds and six patterns. It's waterproof (yay!) and rechargeable (double yay!) so it's easy on the earth.
You're going to need water-based lube for this toy, especially if you're using it anally. Silicone lube can damage the toy so I wouldn't risk it if I were you. It's super-duper important to REMOVE THE BAND if you're going to use it anally. I wouldn't want it being sucked into the black hole that is my anus and never coming back out again. That would royally suck.
Would I use it again?
As a reviewer I get a shitton of toys, too many to want to use them all again after testing them so many times. So it's amazing when I come across one's that I do want to use again. I'm sorry to say that the Fun Factory Amorino is not one of the toys I'd probably use again. It's fun, sure, and the band is super awesome because it makes the toy unique, but it just didn't leave a lasting impression in my vag/on my clit. That's not to say I didn't immensely enjoy the process of reviewing this toy, I absolutely loved looking at my girly juice on this toy and this displayed it in a very unique and–I'm so weird–an artsy way.
What kind of person would the Fun Factory Amorino suit?
While it wasn't for me, I know that many people will absolutely love this fun toy. There are so many ways to use it, you'll probably never get bored (yes, I just used an absolute). I had an awesome time trying out the band and you know what? I didn't quite mind being covered in my girly juice. It was an experience much like the time my ex boyfriend came on his face. That was something I'll never forget, it was hot as hell and having it whip onto my face was pretty exciting, if messy.
For those of you that don't like lengthy toys but still like g-spot stimulation, or those of you that need a starter g-spot vibe, this toy may do the trick for you, it just didn't for me. If you like smaller toys like the Amorino, I'd encourage you to take the Flora out for a spin. If you prefer more intense g-spot orgasms I'd suggest you have a whirl with the Tango attachments or the Mona. Likewise, I found the two rabbits from Lovehoney to be quite pleasurable, though they are much larger than the Amorino, something people like me would enjoy more.
Let's get this thang done already!
If you like my blog and want to support me, please consider buying from one of my affiliates. At no extra cost to you, you'd be making me and my affiliates happy and they'll want to send me more toys to review! If this doesn't seem like the toy for you, you'll def want to take a look around my site.