~Or~
Oh Hai, So the Pure Wand G-Spot dildo is Fucking Amazing
Allow me to begin…
I had one major goal as a sex toy reviewer when I first started out: that I would one day own the Njoy Pure Wand g-spot dildo. Whelp, that one day has happened, thanks to the wonderful folks over at Patsy Sue. There are many reasons why I love this store (I only recently discovered), the most simple one being that the store is "for women, by women." Now, a lot of you will realize how restricting this phrase is "For women, by women" and I want to acknowledge it because it fits me, a queer cis-woman quite well; but please, don't let that dissuade you from checking out their store. They have toys for genitalia of the vagina and asshole persuasion.

I'm a strong advocate of sexual health of women and I hope to help women who have been through traumatic events and those with medical issues that have side effects–like anorgasmia–regain their sexuality through my experiences.
The same goes for those of all genders and sexes–though being a cis-woman does mean that I don't know what peeps of genders and sexes other experience. The most I can give you is my experience with this toy, though njoy does say that this toy can be used on those with a male prostate as well. However, I only have a vagina and a g-spot so I'm going to share my vagina's experience with the Pure Wand awesomeness with you with the hopes that you can find pleasure with this super-fucking-awesome toy, no matter your sex, gender or lack of.
The Pure Wand is Boss. Boss with a capital "B." Lilly from Dangerous Lilly has made it very clear that the Pure Wand is her fave dildo. I'm not going to lie and tell you that this is my fave toy, it's not–yet–but it's still super awesome. I'm also not going to lie and tell you that this was the toy that made me squirt, like it has for so many other reviewers. However, it very well could be. I'm training my PC muscles to gain enough strength to allow me to squirt but it is still a ways off. Right now the most I can manage is liquid dripping down my thighs that is very clearly neither lube or pee. When that time comes, this is the toy I'm turning to so I can finally gush buckets.

Let's go over the awesome, shall we?

The awesome is pretty much everything. As of late I've been raving about pretty much every G-spotter, even ones with terrible vibrations (you'll hear about one of them soon enough) because weak vibrations can either suck my dick or just turn the fuck off. If I'm going to have a g-spotter I don't care if it has vibrations, and the Pure Wand G-spot dildo doesn't have vibrations so we're all winners here. Woot!
The Pure Wand is something I've never experienced before: it's metal. Not hollow metal, either, but pure, solid stainless steel that did not give me a reaction like other metals do. The Pure Wand weighs a shitton, too. While it's not an Njoy Eleven (something I've only ever experienced holding it in a store), it's still pretty significant compared to the other toys I've tried. One of these days I'll be able to stick an Njoy Eleven in me but until that day comes I'm perfectly happy jacking off with the weight of a Pure Wand G-Spot dildo against the one and only g-spot of mine. Barely any lube was needed and when I jacked off with a (few) other toys first, including a silicone toy there was enough girly juice and lube to make the whole process smooth. I was surprised to find that the larger size also went in well without reapplying lube.
I've tried one other toy of this shape, the Comet II. That shape took quite some time getting used to, and it was a scary process; a process that prepared me for the Pure Wand. The Pure Wand G-Spot dildo does stay in place when I take my hands off, the pressure against my g-spot when I let go of a firm hold and hold it steady with my fingertips are a tad bit more intense. (The ease of control would depend largely on your Kegel control.) I can't thrust with my fingers barely hanging on but with a little practice I was able to control the pressure without grabbing the toy in a death grip.
Something fun you can do is play with the temperature of the toy. I don't care much for temperature play, but the Pure Wand took care of that for me. It was ever-so-slightly cool when I inserted it and it warmed up so quickly that I didn't notice the cold. I would be concerned about putting the toy in hot water, or warming it up with a warm towel, because I don't want to get a burned; which would be totally be my fault and doesn't mean that you'd be stupid like me and misjudge the heat/cold that your body can handle. I found the happy medium was for me to use the toy and let it do it's own thang. It's got this, guys, the Pure Wands' got this so hold your horses.
It was quite weird that I liked the smaller bulb better than the larger bulb. I prefer girth in my toys, even when my vagina doesn't (my eyes are bigger than my vagina) and I just assumed that the larger end would be the one that did it for me. The smaller end gave me pin-point control over the stimulation of my g-spot; the larger end just swallowed it whole.
Another strange experience I had with the Pure Wand was that, when it rolled to the side, which happened when I wasn't using my Kegel muscles, it pressed up against my perineum. That's wasn't a positive or negative aspect of the toy. It was just…interesting; definitely something I'd like to feel in the near future.
What was questionable
…is very relative. I've found that many women on the internet have issues with toys that hit their pubic bone. I warn you, this toy will probably (inadvertently, if not intentionally) hit your pubic bone as you're adjusting to the weight and the shape of the toy (when used vaginally). The key is to rock the toy up and down rather than thrust, as I made the unfortunate mistake of doing with some other toys.
I was scared of hitting my cervix so I didn't go all out pump it up and down as fast as I wanted to. I think that's for another time. When that does happen I shall update you all! For now it's like I was with the Amorino (though the two are stark opposites): I'm very cautious because that shit be scary and I don't want to get hurt.
It's a weighty toy so don't go into it assuming that you will be able to hold this toy nonstop. I couldn't. That wasn't a bad thing, though. When I jack off I always(ish) use 7 toys, that's my lucky number, so it gave me time to rest and use another toy that didn't require as much upper body strength and that stimulated other parts of my body. I was surprised to find that it was doable, though, to hold a light vibe (think: Tango) while I used the Pure Wand.
The boring stuff…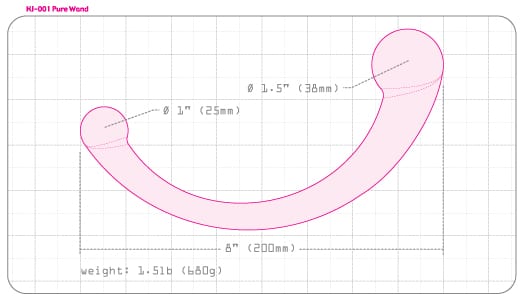 The Pure Wand, or, shall I say, Queen of all G-Spotters, is made out of medical-grade stainless steel, a huge relief for someone like me who has intense metal allergies.
I'm not going to bore you by repeating the specs that you can see above, rather, I'll tell you how well those specs worked with my body. The big head was the same size as the Comet II's head, 1.5″ around but the Comet 2 felt much larger, most likely because there was so much drag.
Who would get a thrill out of the Pure Wand?
I was going to say an experienced g/p-spotting individual would be a more appropriate fit but I'm sure many of you already know your body. It can be quite startling to have an experience like I did with my first intense g-spotter but it prepared me for the Pure Wand, and, in turn, I hope this review will give you an idea of how to use it without hurting yourself. Be gentle, bro, be gentle.
As a beginner this is going to be a test of thy strength, both upper body, Kegels, and control as you're closing in on your orgasm. While I don't have the worlds weakest Kegel muscles, I'm not super strong either. I have the kGoal for review so I'm going to use that as a strength trainer and as I get stronger I'm going to use the Pure Wand to squirt. Judging by what other reviewers have said, if you're going to squirt with a toy, this is the one you want to use. I totally trust them to know what they're talking about. Let's say this is a learning curve; a tool that I'll be using on my quest to squirt. Wouldn't it be awesome if this was you, too?
Here's the most important thing I learned: with those of you who have vaginas and like vaginal penetration, I found that I got the most pleasure by following the curve, pumping it up and down toward my belly.
Will I use the Pure Wand again?
HELL YEAH. That is all.
Can we, like, wrap this up already?
The Pure Wand is super-fucking-awesome. Remember that this is an intense toy. If you don't want intense stimulation of your g-spot, toys that are gentle g-spotters may be more to your liking.
If you're looking for a wild ride, and know your body well-enough that you don't think you'd hurt yourself, give the Pure Wand for a whirl; just be careful, don't be stupid like I was when I tried my first g-spotter. Stay strong, you all, and trust that your well-practiced hands know what to do.
Happy fucking!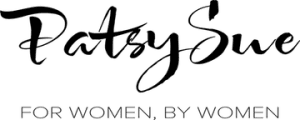 Has my site been helpful? Let me know if this review helped you hit the spot and consider purchasing your future toys from one of my affiliates *psst* Patsy Sue is one of those awesome affiliates so keep checking back for their reviews* At no extra cost to you, you get an awesome toy and you help ensure that I keep getting toys for review.