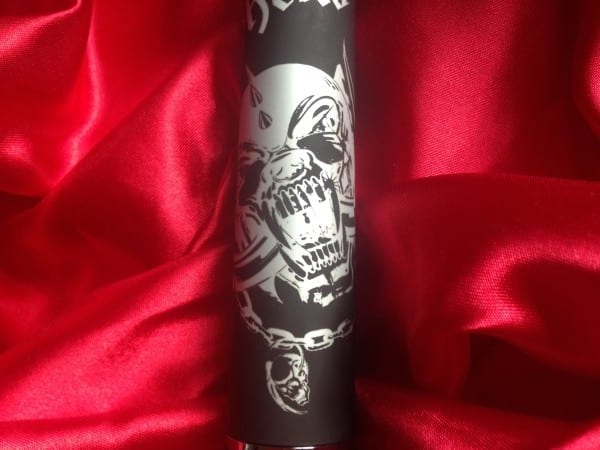 Allow me to talk about the Motorhead Ace of Spades Vibrator…
Every so often a toy comes along that surprises me. The Motörhead Ace of Spades 7 Function Power Classic Vibrator from Lovehoney is that toy. From a toy that inexpensive I expected a nice little massage on my clit but OH MY GOD YOU GUYS, that vibe has a motor. Like, a motorcycle motor. I've been on the back of a bike before and loved it; I mean, it was basically a giant vibrator. This toy rumbles like a bike. Not buzzy, I want to make that clear, but like a fucking rumble. When I held the Motorhead Ace of Spades Vibrator in my hand, the vibrations carried through my arm with breathtaking strength and onto the table where my elbow was resting. I wouldn't be surprised if I woke up the house.
This would be an epic toy to use with a partner, as a forced orgasm play toy. I would absolutely love to do that with a partner; I'll keep this toy in mind for when that day cums and I want to conquer her clit.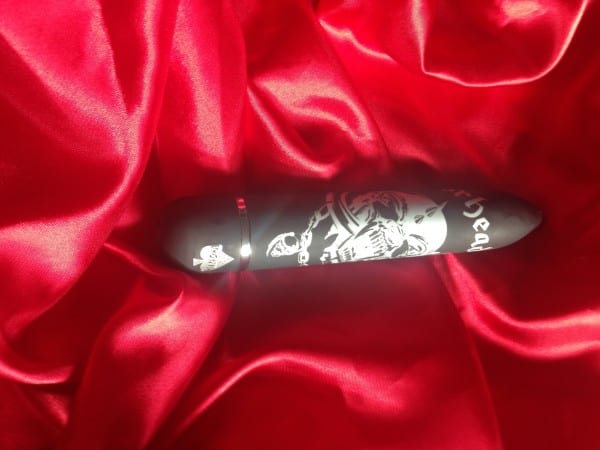 Let's go over the awesome, shall we?
This toy is the shape and size of the first vibrator I ever had; though the first I had was incredibly cheap, buzzy, and basically a piece of shit, especially compared to the Motorhead Ace of Spades Classic Vibrator. I don't usually use "boring" shaped vibrators, I like the fun stuff, but the Motorhead Ace of Spades Vibrator fucking rumbled through my vag. It was so flipping strong, when used internally, that I felt it in my ass. Have I mentioned I like vibrations in my ass?
The Motorhead Ace of Spades Vibrator is black (my favorite color in a sex toy) with the name of the inspiration behind this toy and a "rock-and-roll design" on the toy in silver. This is the first vibrator I own that has such an intricate design. Of course, I couldn't see the design because I was busy enjoying the toy, but it's quite nice to look at.
Lovehoney has made some amazing toys; their rabbit was the first one I had ever tried and I fell in love with the Tracey Cox Supersex USB Rechargeable Rabbit Vibrator and the 50  Shades Greedy Girl Rechargeable Rabbit Vibrator . While I didn't love the shape of this toy, I can still say that this is a quality, effective toy. It was as strong as the (Hitachi) Magic Wand, certainly more rumbly, possibly even more powerful. For me, I would use the toy in my vag in order to feel the vibrations in my ass since it's not anal-friendly. Other than that, this is a toy I use for external use.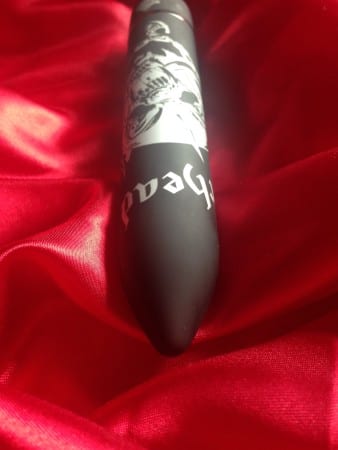 Eh…
Like I said, this puppy is incredibly powerful. And loud. Like, super-fucking loud, dude(ttes). Too loud to use at night when the family is sleeping, or when they're awake, for that matter. That's the biggest downside to the Motörhead Ace of Spades 7 Function Power Classic Vibrator. That being said, maybe some of you don't care about the noise; if I lived alone I wouldn't. After all, it's the performance that ultimately matters to me, and this toy performed beautifully.
Now, as far as the shape of the Motorhead Ace of Spades Vibrator was concerned, I have this (possibly) irrational fear of hitting my cervix and the point at the head of the toy scared me so I didn't thrust very deep. Of course, that wasn't a problem because I enjoy shallow thrusts and girthier toys. Honestly, I don't know if the pointed tip would be a problem. I didn't want to risk bruising my cervix. Been there, done that, and OW.
The Boring Stuff
The Motorhead Ace of Spades Vibrator (say that seven times fast) is shaped like a bullet vibrator but is quite huge for a toy of that style. The packaging isn't anything special. It neatly displays the toy through clear plastic, hugging the toy like stripper's lingerie. It's so cool, too, because the design on the toy matches the design on the packaging so it looks like a whole face. The packaging is made for internal and external use. Here are the stats from the Lovehoney site:
Length: 7.25 inches
Insertable Length: 6 inches
Circumference: 4 inches
Base diameter: 4
The Motorhead Ace of Spades Vibrator is made from ABS plastic, which is non-porous and body-safe. It's a rigid vibrator, it has absolutely no give, which isn't surprising given the material that it's made out of. I was so glad to find out that it's submersible. Sometimes I forget that some toys are not waterproof and I forgot to check with this one. Fear not, O readers, for the The Motörhead Ace of Spades 7 Function Power Classic Vibrator is still alive! This thang ain't rechargeable, you need three AAA batteries to make this baby purr but those aren't hard to find so get those batteries while you wait for your vibe and then you're all ready to rumble (see what I did there? I'm so punny).
You control the vibe from a single push button that will take you through 3 speeds and 4 patterns. I've realized, through my sex blogging time, that I quite enjoy patterns. The best way for me to use this toy is by cycling through the patterns. The  Motörhead Ace of Spades 7 Function Power Classic Vibrator is so incredibly strong that I cannot handle one constant speed.
Who would like this?
Power queens and those with vaginas' that like length but not girth. This isn't the girthiest toy I've tried (is that a word?) but it isn't exactly small either. With an insertable length of 6″, there's quite a bit of toy to insert. I've mentioned many times that I often review toys that are lengthier than girthier because length is relative. If it's too girthy *cough cough* then I cannot handle the toy but with length you have more leeway.
I was going to say that those of you that only have assholes should use this toy because it's not anal safe and can get sucked up the black whole that is your asshole, but there are other parts of your body that you can stimulate with this toy. When it vibrated in my ass I felt it most on my perineum and, if I didn't feel shitty when I touch my nipples, I would have loved to try this on my breasts. As I said above, this is a toy I will mostly use externally.
Would I use it again?
I actually probably will use it again. I can't say this about every toy but I can tell you that this is a good toy to run to if you're ever short on orgasms.
If this doesn't seem like the toy for you, perhaps you want a vibe with more girth, or something that has more shape than this one, then those are some other options. If you're more of a dildo person then this review won't help much, you weirdo. However, if you're more of a clit-whore then the (Hitachi) Magic Wand may be a better way to go.
But, I must add, they have an AMAZING return policy. You can use it, return it 365 days and you'll get a refund. No big deal or anything but big deal. They want to make sure you're a happy-camper so you'll find something that's right for you.
Happy Fucking!
If you liked this review, or find my site helpful, in the future please consider buying from my affiliates (Lovehoney).