~Or~
We-Vibe Pleasure Mates Collection–Gotta Collect them all!
(see what I did there? I'm hilarious.)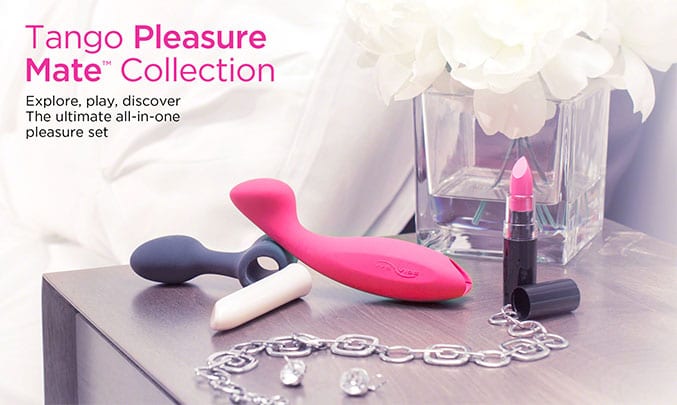 Before we get to the We-Vibe Pleasure Mates Collection…
I'm going to have to start making quickie reviews for you all because I'm behind on reviews and my life is bat shit crazy right now (at least I'm not bat shit crazy). Everyone deserves their toys to be reviewed if they send them to me, and I have decided to hold myself responsible for reviewing the toys I agree to review. A few have been sent to me recently that I have not requested nor have I accepted. Those reviews will not be the priorities for my reviewing process. However, We-Vibe sent me the Pleasure Mate™ Collection at my request, for which I am grateful. I've had the Pleasure Mate Collection way too long; this review is much overdue but I am happy I took the time I needed to write a good review for them.
Something else I'm going to start doing:
I haven't been approaching my reviews in a way that beginners can follow. My friend helped me edit this post and he asked me all sorts of questions that I didn't have a second thought about. I assumed–without consciously assuming–that people were all on the same page with me. Whelp, I was wrong so I shall fix that!
Allow me to begin by not actually beginning the review:
While you can buy the set of three (Dusk, Tango, Glow) you can also buy each attachment as its own toy. Each of the attachments (the Dusk and the Glow) can be used as g/p-spotter dildos, but the Glow shouldn't be used in the ass (the ass=black hole for sex toys, remember?).
I was so incredibly excited to get the Pleasure Mates Collection in the mail. I'd seen other bloggers rave about it and I was certain that I'd love it; and I was right, this kit is the bomb. A blogger, Epiphora, even had a handless orgasm with the Dusk.
But first, another prelude. Let's get the boring stuff out of the way:
Both the Dusk and the Glow are made of silicone which means they can be boiled to sanitize them. Soap and water works just as well, as does running them through the dishwasher (my favorite). Silicone is body-safe and it's porous so it won't harbor nasty germs that can cause infections, woot!
The Tango is made out of ABS plastic, another safe material. The Tango, however, cannot be boiled or thrown in the dishwasher. I wash it by hand. It's cute and tiny with 8 vibration modes and it comes in pink, blue, or white. It has one push button control, is waterproof, and a 90-minute charge will give you 2 hours of playtime. To make this purchase super awesome, the Pleasure Mate™ Collection comes with a 1 year warranty on these We-Vibe toys.
The packaging is classy as fuck, all of We-Vibes packaging are classy. I don't have it anymore, my dumbass self got rid of it while she was cleaning, but
Why, what's that in my butt? (Dusk)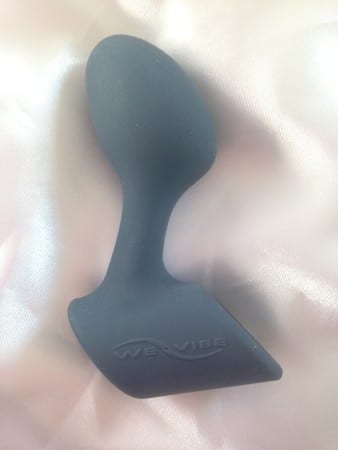 Here's the low-down on the Dusk as an anal sex toy, for those of you who are new to butt toys. The bulb of the Dusk goes into the ass to put pressure on a male prostate and, according to many men, can intensify their orgasm. As far as the Tango goes, its purpose is to carry vibrations through the bulb so you essentially have an anal-safe vibrator because of the flared base. As for it's use without the vibrations, I've found through experience, and through other sex bloggers, that I get pleasure from squeezing my Kegel muscles around the anal toy. In that instance, I can feel the Dusk like it's in my ass, though that feeling goes away as soon as I release.
The Dusk is an anal-safe toy that can double as a g-spot vibrator when the Tango is up and running in the little sleeve that was designed to fit it. I was pleased at how comfortable it was inserting the Dusk into my ass; likewise with my vagina, though it's my ass that has the most trouble. Anal play should never hurt; in order to avoid pain, I had to take it slow and coat it with lube to make me comfortable enough and to get into the head space for anal penetration.
For fear of shitting the Dusk out, I only kept it in for a short while, and that was enough to feel the pressure against my g-spot. My ass didn't quite feel filled up but that allowed me to use a second toy in my vag to achieve a dual pleasure. The Dusk also ensured the toy in my vag was pressing up against all my pressure points. Here's a really cool thing: when I tightened my Kegels, it felt like the Dusk was in my vag, lightly pressing up against my g-spot. It almost felt like I was cheating with the Dusk. My other toys thought they were made for me, but the Dusk gave me something the others couldn't: dual-stimulation as a butt plug and as a vaginal vibrator.
As for the hands-free orgasm I've heard about but haven't experienced, I'm confident that's possible. For one reason, I trust Epiphora; and for another, the shape and stimulation the toy provided when in my vagina and touching my clit was perfect for my body. I just didn't have the patience to do that. Because you're using the Tango with the Dusk, (the Tango being a rather long bullet vibrator) lays on it's side in the pocket so that it's long enough that when the Dusk is inserted into one's body, both the clit and the perineum is stimulated.
This toy would suit those looking for p-spot or g-spot stimulation. While the shape isn't necessarily completely unique (I say "necessarily unique" because I don't know how true that is) it still packs a punch. It's anal-safe which means it's good for all of you that like butt stimulation, and it functions as a g/p-spot vibe both in your butt and/or in your vag.
Let's check out the (We-Vibe Pleasure Mate Collection) Glow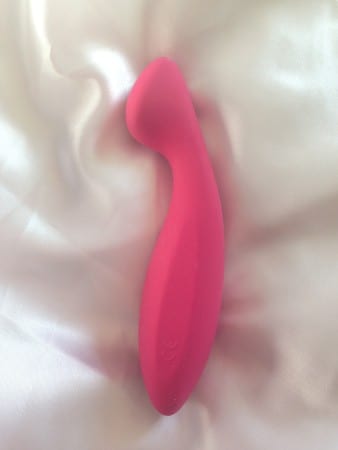 The Glow closely resembles the Ella, a toy that I've been drooling over but have yet to get my hands on…er, my vagina on? (How about both?) It was stiffer than I anticipated and that made me question how comfortable it would be as I positioned it for entry (Enterprise, you may dock now).
The g-spot stimulation was strong, much more than the We-Vibe Pleasure Mates Collection Dusk, but that is to be expected with the dramatic curve of the toy's head as opposed to the rounded curve of the Dusk. I actually found that the Mona vibrator and the Pure Wand  provided more pleasure than the Glow did, which was surprising, I expected it to be the other way around. I think part of the reason was because I was scared of the Glow. I know I don't have problems with my pubic bone like some other bloggers do (Beck, for instance, who has pushed two babies out of her body) but I'm still cautious. As usual, I found that rocking the toy up and down was the best way to go, rather than thrusting in and out and that provided more pressure on my g-spot, which was exactly what my body wanted.
I was also surprised to find the vibrations from the Tango in the Glow went all the way to the tip of the toy. Because the head and neck of the Glow is so stiff, I didn't expect it to be able to carry the vibrations from the Tango to the tip of the Glow. I found that I could use it as a clit vibe. It didn't provide the same pinpoint pressure and pleasure that the Tango did all on it's own, but instead it spread the vibrations around my clit and urethra (another erogenous zone).
Something additional to note: you should use lube to get the Tango bullet into the the Glow or else it'll be a bitch trying to get that damn thing out. With the Dusk it's not too bad to get the Tango in and out but it would make your (sex) life much easier to use a shit-ton of lube.
What do I think, Rose? Should they get this collection?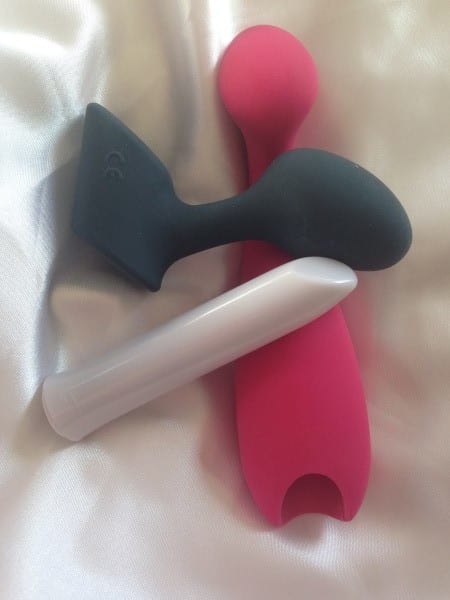 Should you get the We-Vibe Pleasure Mate™ Collection with the Dusk, Glow, and Tango? Def! It's a collection that I'll use again and that's saying something. While this kit isn't cheap, it's well worth the money. However, if you're only interested in the possibility of butt stimulation, I think it's a worthwhile investment to buy the Dusk and the Tango and leave out the Glow. Likewise with the Glow if you're not into anal-play. If you don't want anal stimulation then don't worry about the Dusk, go do yo thang with the Glow and Tango. Just remember it's not anal-safe.
These aren't the toys for you?
Don't think this toy kit is for you? There's always the possibility of buying the Tango by itself. Say you're looking for a butt toy that is more substantial but can still stimulate your p-or-g-spots, you could consider the B-balls. Or perhaps you're looking for a g-spotter with a more subtle curve but still vibrates? The Uma is always a possibility.
Did this review help you? I'd love it if you'd consider purchasing your future toys from my affiliates (Shevibe is featured above though  Good Vibes also carries them and Lovehoney has a bunch of We-Vibe toys). At no extra cost to you, your purchase supports my blog!
Pros
Several options
Each add-on is very unique
One of them wasn't pink!
Several colors for the Tango out there but I believe it comes in white for the kit
The neck of Dusk is small compared to the body
Cons
Pink is the only color Glow comes in
Neck of Glow is too firm