~or~
There's Two L'amourose in There??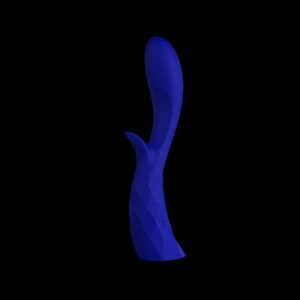 This is going to be a joint sex toy review of both the Prism VII and the Rosa by L'amourose because I got them together and the g-spot stimulation curve is quite the same as the other. Though one is smaller and stout, and the other is lean and long, the only real difference is the size of the toys and the additional arm of the L'amourose Prism.
I'm going to start with the Rosa, because that was the first toy that I received; the Prism VII was sent to me randomly, something I very much appreciated but wasn't expecting. I wasn't planning on writing a review for the Prism VII by L'amourose  toy but I want to because I want to share the good, sexy clitoral and g-spot stimulation that these toys offer.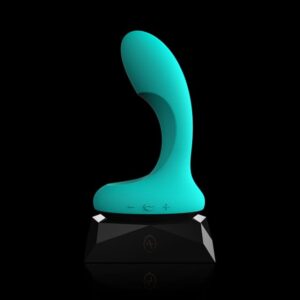 The Rosa by L'amourose
Allow me to begin by telling you the origins of my interest in the Rosa by L'Amourose…
I first saw this toy on Dangerous Lilly's blog. I hadn't heard of this company before because it is quite new but it was a hit among the sex toy reviewers so I had to get my hands on it. The Rosa that I received is not the version that warms up, but that didn't make me any less impressed with this sex toy.
The Good…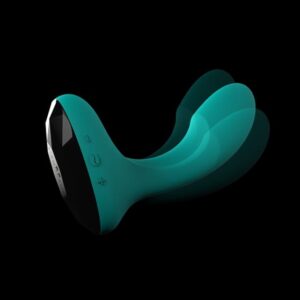 The vibrations of the Rosa are strong and rumbly. I came by using it on my clitoris because they were just too good to pass up.
The curve is glorious, as is the curve of the Prism Vii; though Rosa's is slightly more girthy, resulting in a nice, neat full feeling in my vagina.
It's made out of silicone and is completely waterproof which means that you get to take this sex toy in the shower.
I was able to bend the shaft of this sex toy. While I didn't need to for my pleasure, I know that it will be fitting for some other people.
It's anal safe because it has a flared base which means that it's not going to get sucked into the black hole that is your asshole.
The rumbliness was incredibly pleasurable on my clitoris so this is a wonderful toy for both the g-spot and one's clitoris (if you have one).
The not-so good…
Honestly, there were not too many things that weren't good. I feel obligated to come up with something so that you know what you are getting if you decide to purchase this fucking-awesome sex toy. Here it goes:
It may be a bit too thick for some peeps, but I'm sure if it's big enough for a size queen. I guarantee you that the Prism Vii won't be enough for those of you that like thick things up your ass.
I can't fucking see the buttons. They are SO NOT user friendly. It's impossible to find them while you're using the L'amourose Rosa so you need to take it out and fumble around for the buttons that are hard to see. Not cool.
What I learned about my body…
Taking the Rosa out of my vagina in order to find the buttons wasn't a terrible thing. It prolonged my jack-off session while I watched pee porn so I was still turned on throughout the jack off session. However, that isn't ideal for every time I jack off, especially when I'm having a difficult time reaching orgasm with the L'Amourose Rosa.
Through the L'amoursoe Rosa I found another g-spot stimulating sex toy that brought me immense pleasure. The Prism vii, review to follow, is now one of my favorites. The Rosa also comes
The boring stuff…
It's silicone and rechargeable with a classy-as-fuck charging dock on which you can display the toy. You can get Rosa by L'amourose in either pink, greenish-blue like mine is, or black, my favorite color for sex toys.
Onto the Prism by L'Amourose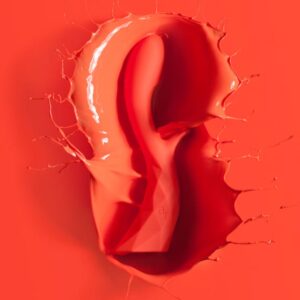 Allow me to begin this review of the Prism L'Amourose by saying…
That this toy is fucking beautiful. It stands up on it's own, unlike any other vibrating rabbits I've used. It comes in three unique colors and I am so fucking happy that I was sent the royal blue one. I say that black is my favorite color for sex toys but looking at the blush pink, the royal blue, and the red I can't choose among any of them to be my favorite. The Prism VII by L'amourose was sent to me randomly, after I requested the Rosa. Let me tell you something…come closer…THIS TOY IS THE FUCKING BOMB. It was a wonderful surprise, much like the Nova by We-Vibe was to me in my last package.
Now, I couldn't find any affiliate links to the Prism VII so I'll be linking to the Prism V which I've also heard wonderful things about.
The Good, The Bad, The Interesting…
The Prism VII pretty much everything the Rosa is, because they're  similar in both size (width), vibrations, and shape.
The Prism VII is slightly slimmer than the Rosa though not by much
The curve of the PrismVII by L'amourose hits my g-spot without fail and without the unpleasant "popping" sensation I've experienced before.
It was long and lean and was easy to insert
The rabbit ears hit my clit perfectly so that when I thrust quickly the stiff "rabbit" ears stimulated me enough so that I can with just thrusting (which is not a usual happenstance for me, I might add).
I didn't have to take the Prism VII out of my vagina in order to use it on my clit to reach orgasm. The little wanna-be bunny ears took care of that for me.
The Bad…
I'm grasping for straws here, guys. I feel like it's my duty to report something that didn't twix my nethers quite right but quite honestly, there wasn't anything I wasn't a fan of.
The Interesting
It was totally stiff, unlike the neck of the Rosa that wiggled a tad if you pushed on it hard enough.
The vibrations were identical to the Rosa
The Boring shit:
7 Vibration patterns comes with this epic toy; something I didn't delve too deeply in because I needed constant vibrations in order to ram the rabbit ears properly against my clit.
Three awesome colors: Sunset Red, Azure Blue, and Blush Pink
SUBMERSIBLE. Yes, that's right, I do get quite a shitton of use out of the lube I keep by the shower with toys like these two puppies
Silicone exterior (quite from the site) though I don't know what the inside is made out of and I don't care because these toys perform well and are body-safe.
As per usual, remember to use lube for a slicker experience, especially if you're like me and don't get wet like ever…
Who would like these toys?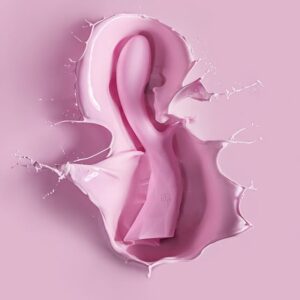 Lovers of the g or p-spot stimulation. The curve of both toys was perfect for me and there's a damn good chance they'll work for you too. Both of the toys are anal-safe, because of Rosa's nice big base and the weird-ass bunny ears of the Prism VII.
Think the curve isn't dramatic enough for your spots? Consider giving the Pure Wand a test run; the curve is one of the two most dramatic I've seen (see: Comet II). If this curve seems too dramatic for you the Uma is a safer bet.
Would I use these toys again?
FUCK. YES. That is all.
L'amourose, it was literally my pleasure to review for you. I hope to masturbate with your more of your toys in the near future <3
Did this review help you? I'd love it if you'd consider purchasing your future toys from my affiliates. At no extra cost to you, your purchase supports my blog! Go go go check them out. I wouldn't list them if I didn't like them. 
Performance (Rosa & Prism)
9.9/10
G-spot stimulation (Rosa & Prism))
10.0/10
Aesthetics (Prism)
10.0/10
Pros
Rumbly vibrations
There is another version of both of the toys that warm up. You have options.
Stands up on their own
Waterproof so fun time in the shower!
Silicone which means they're body-safe
Cons
Rosa doesn't look as awesome as the Prism but that doesn't affect the quality and feeling of the toy
Buttons are NOT easy to press, nor are they easy to find