I'm on the hunt, you guys. On the hunt for more content for my blog. My job doesn't allow me much time for blogging so I want to do little fun memes and shit like that. However, it's not looking too good for the memes out there. And by that I mean there are so few fucking memes I can't even do four or five a week. If you know of any memes out there, let me know. If you have any ideas, let me know. For the love of god, give me SOMETHING to write about, because this betch ain't feeling too creative. I'm fortunate enough, however, to have someone else do the thinking for me, but it's not always going to be what I want. For this, one of the many times my thinker isn't working, I give you: the Sexy TMI Tuesday!
On that note, I should probably masturbate tonight. No, that last comment had nothing to do with anything, including the whole "on that note" but my mind went there anyway.
Let's get some sexy TMI going on in here!
1. Have you ever had sex in front of other people? What were the circumstances? Time for Sexy TMI!
Kinda. I gave a guy a handjob on a bus, I fucked behind a neighbors fence, and I've jacked off in front of my window.
2. You are invited to Adult Show & Tell. What is it that you will show and tell.
The book More Than Two, because I accidentally fell into a polyamorous relationship and fucking loved it. Current book I'm reading on the subject.
3. What part of your body do you like to show off?
My butt, though gaining weight has kinda made it a tad droopy
4. What part of the human body do you enjoy looking at the most?
Butts. Girl butts.
5. When you watch porn, what is it that you most enjoy seeing?
Public peeping! So much peeing, so much public. I especially like watching women pee on public benches.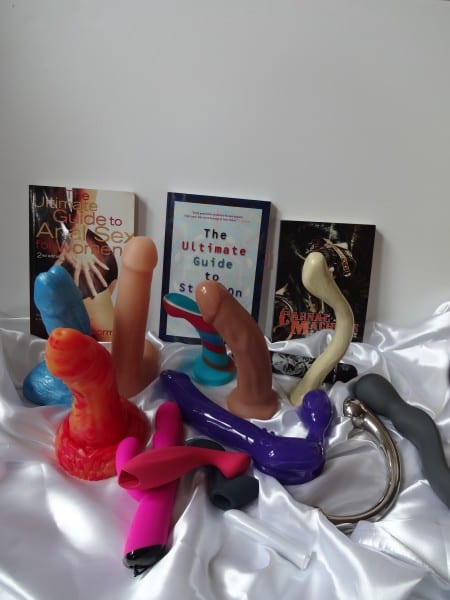 As for the picture above, these are the links to the toys I've reviewed from that picture. I may have already reviewed the following, but can you name them by looking at the pictures? (It's okay to cheat and take a look at the ones I've reviewed. I won't judge you…I'd probably do it too.)
*cough Adam O2 Dual-Density cough*
*cough We-Vibe Pleasure Mates cough*
*cough Tango cough*
*cough Pure Wand cough*
*cough MotorHead by Lovehoney cough*
*cough Lover's Wand cough*
On that note, actually, it's totes unrelatable to what I just said, you can follow me on teh interwebs. I'm on the Book of the Face, the Thing That TWEETS REALLY LOUD LIKE THIS EVERY 2 HOURS ON SCHEDULE, The Picture Thingy, Reddit (See: on_her_back_reviews) (lot's of pervy stuff there!), and Google's thingy. Well said, right? Well said.