~or~
Prepare Your Vagina, Bi-Stronic Coming Through
Allow me to begin…
by telling you how freaking excited I was about the Bi-Stronic by Fun Factory. I've had wonderful experiences with the Stronic Zwei so I was bouncing up and down, waiting for this to arrive in the mail. Whelp, it arrived, I charged it, turned it on and…FLOP. I considered making a video of me using this on my lovely hairy vulva but I decided that it wasn't work the effort. Quite frankly, this toy didn't live up to the hype that my vagina and clit was hoping for. However, that is not a reflection of Fun Factory as a manufacturer. They have some seriously good shit out there.
That being said, let's start with the positive aspects of the Bi-Stronic pulsator by Fun Factory
The Good
It's a fucking Pulsator, a toy with magnets in the core that bounce back and forth, powering the toy and propelling it in and out of le vagina or asshole. Because it has an arm it is anal-safe; as in, if you use it safely with the arm attached, it won't get sucked up the black whole that is one's asshole.
It's light pink. I know, I know, pink is overrated. But this pink is all soft like cotton candy and let me tell you something: I like cotton candy.
The patterns are the bomb. You can have the rabbit ears vibrate at the speed of light while the body gently thrusts against le g-spot. Alternatively, the toy can pulsate like a dog going after a car, while the ears buzz like a fucking bee.
It has an easy "on/off" switch so when–hypothetically–your sister comes home unexpectedly and knocks on your door while the Bi-Stronic is fucking you, you can quickly turn it off and pretend you were reading, not getting off to a toy that fucks you like there's no tomorrow.
The quality is sound, as to be expected from Fun Factory. The body and rabbit ears were coated with silicone, a body-safe material that is safe to be in your body.
The not so good things about the Bi-Stronic
It wasn't made for my body, which doesn't mean it ain't made for yours. The ears hit the top of the shaft of my clit. While that is an awesome spot to stimulate when I'm about to come but don't want to quite yet, it was too fucking buzzy to do much of anything
Since the ears didn't do shit for me, I kept trying to squeeze another vibrator between my clit and the ears so I could get off while the toy fucked me back and forth. I failed. My vibrator and my body were sad. I eventually ended up finishing myself off with the Rave by We-Vibe pressed up again my clit and a Fucking Sculpture inside of me, rocking up and down to stimulate my g-spot.
What I learned about my body by using the Bi-Stronic
Not all rabbit ears are made for my wonderful body. The part of my clit that can get me off is closer to the opening of my vagina than I originally thought. I know now that I need to look for a toy that has rabbit ears closer to the base of my clit.The Prism would be a good example of this, as would the Nova, which keeps in contact with my clit no matter how I thrust.
Who would like the Bi-Stronic?
Someone into buzzy vibrations more than rumbly vibrations. Someone who is willing to take the risk that the rabbit ears may not fit with their anatomy. Someone who can throw their hands in the air and yell, "screw the vibrations, I want the thrusting!" and then spend the monies on this toy instead of the Stronic Zwei. This toy isn't going to suck for everyone. If you know your body well, and you think this would work for your anatomy. I've found that buzzy isn't always bad, especially when the toy offers other pleasurable parts as well; the pros often outweigh the cons for my body.
As far as buzzy goes, it's quite intense. Sometimes it feels more intense when it's buzzy, it's just pretty much impossible for me to get off on those vibrations.
The (Semi) Boring shit
NBD but this toy can thrust. Like, it fucking does the work for you. This is perfect for someone who is as lazy as I am when it comes to masturbation
The shaft and ears are coated with silicone, a body-safe material
64 ways to experience this toy (so says the Fun Factory website). I didn't have the patience to experience all 64, primarily b/c I couldn't hold off that long, but the possibilities are seemingly endless so you're bound to find something you like
This puppy is waterproof which means you can have some fun in the shower, like I have done countless times
Rechargeable; future generations will thank you for helping keep their environment clean and safe
The handle of the toy and the buttons are made out of ABS plastic, a body safe material which the body of the toy is silicone.
Super quick on/off switch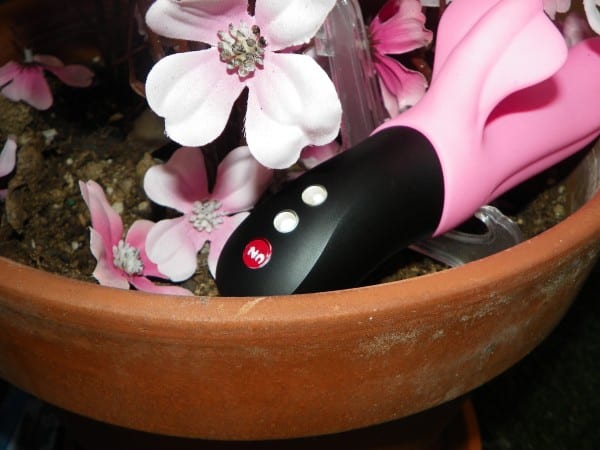 Would I use it again and/or recommend it to peeps?
I'm sticking with my Stronic Zwei, thank you very much. It was worth a try but the only reason I don't regret using this toy is because I didn't spend my monies on it. If I had, I'd be super-fucking pissed off. I'm torn, I really am about whether or not I'd advocated buying this toy. It's a toss-up, plain and simple, where it didn't work for me but may be an epic toy for you.
Check out some other blogger's reviews of this toy then hop on back to me and comment with any questions you have. Like I said, just because I didn't like this toy doesn't mean you won't. You'll see that not all of them had my experience; some of these lovely bloggers absolutely loved this toy while others have the same complaints as me.
Don't think this toy is right for you?
That's okay, I forgive you. If you want simple pulsations that stimulate the g-spot while leaving room for a vibrator that suits your style, you should consider giving the Stronic Zwei a try. If you're not into pulsators but love rabbit vibes, I've had great success with the Greedy Girl and the Supersex Rabbit, both of which stimulate both the g-spot and your clit; they were perfect for my body.
If you just want g-spot stimulation, give a g-spotting dildo a try like the Pure Wand for something seriously intense or, if you want something a bit tamer, consider the Rosa or Prism; the Rosa being a toy that can stimulate your g-spot and/or clit with rumbly vibrations.
Did this review help you? I'd love it if you'd consider purchasing your future toys from my affiliates. At no extra cost to you, your purchase supports my blog! Go go go check them out. I wouldn't list them if I didn't like them.