~or~
Twist and Shout with the Rave by We-Vibe
(Or just squirm uncomfortably.)
Rave by We-Vibe
The Rave by We-Vibe is one ugly ass toy
. It reminds me of the mutants from The Hills Have Eyes, so not an attractive quality in a toy. I loved the purple shade it came in but that didn't make up the design.
For the life of me, I cannot figure out how the
Rave
by We-Vibe is designed. The idea is that when you twist it the toy curves up against your g spot, keeping it stimulated as you thrust. It's a great idea, sure, but it just doesn't do it for me.
I love We-Vibe toys; nearly all of them, that is. I've used
the newest toy, the Nov
a by We-Vibe, and loved that thang. I have the Tango and the pleasure mates kit and I have the Touch. I cannot get enough of those toys but the Rave isn't one of my favorites. The Tango is my go-to vibe when the
Magic Wand
is too much or I'm in the mood for some serious rumbles. Let's start with why this toy may work for you
The good:
The stiffness of this toy was a plus for me
The Rave is well made, in design and in the material. It's a silicone toy which makes it body-safe and easy to clean.
While the Rave is only splash-proof, not waterproof, it still worked for me because I wasn't interested in taking a toy that I planned on using internally in the tub. Besides, I have the Touch and Tango by We-Vibe to take into the shower with me.
Rechargeable which means it's good for the environment which is always a plus. I very much approve of that. While that does usually make the toy cost more than, say, another one of it's kind, it's well worth it. That being said, there isn't quite another toy like the Rave.  

Bro. BRO, you can control this toy via an app on your phone like most of their other (the couple's toys as well as well can be Mind. Blown.
10 preset vibe modes give you ten ways to come.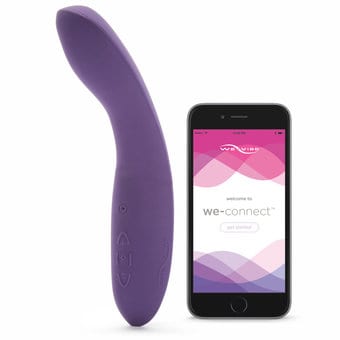 On the flip side…
I found that the curve of the Rave made it uncomfortable when I hit my cervix. I don't know why that is, perhaps because it was out of my control because the toy had a mind of its own when I tried to thrust it straight back and forth
The Rave forced its way into a twist was exciting at first, but didn't give me enough freedom to use it in ways I'd rather, like sharp thrusting against my A-spot.
Want g-spot stimulation?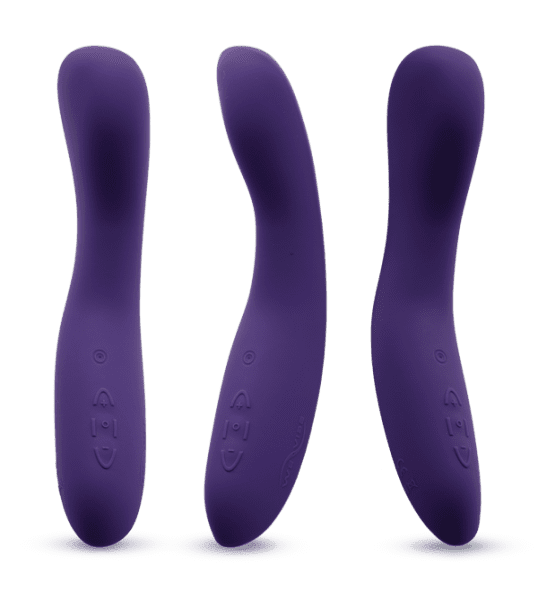 If you want something with a rather muted curve,
give the Uma a try
. If you want something more pronounced, I was given the
Nova
and I can tell you that it is wonderful,
quite similar to the Mona
but with rabbit ears that are constantly in contact with the clit. I suggest this toy, even though it is crazy different from this, because it hit the right spots for me; spots that this toy was intending to hit.
A little something extra for my fuck bunnies.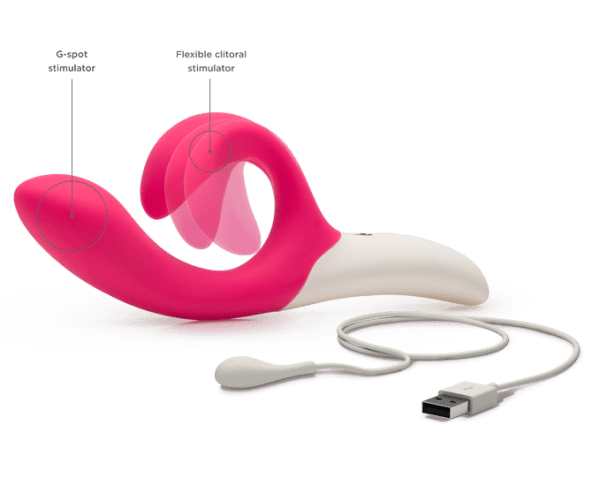 Now, I have a little something extra for you, and for me.
I was accidentally sent the Nova
and when I turned it on I fell in love. The deep vibrations paired with an arm that was always in contact with my clit was amazeballs. A reviewer that used this toy before me had their opposite reaction that I did, as is what happens when peeps have different bodies.
The curve of the
Nova is freakishly similar
to the
Mona
, a toy that I and many of their reviewers Rave about (see what I did there? I'm so clever). That along with the arm that never let go of my clit was like heaven in my vag. Like god built a little boat with an arm and curve that sailed into me like no other.
Here's the deal with this toy, I fucking loved it and I endorse it wholeheartedly. Because it didn't work for everyone it's not a sure-fire thang, though I really REALLY want to say that it is.
In case you think this isn't going to work with your body
I suggest that you look into the Mona if you want that curve. If you like the rumbles, the Touch by We-Vibe rocks my socks, though I got it as a gift so I haven't reviewed it. Something I have reviewed, however, is the lovely Tango which is one of my favorite toys. Because I have so many I don't always use them more than the three to seven times I use them before I post a review.
Don't think any of this is up your alley? Take a gander at the rest of my blog and search your little heart out, I hope you find what you want. I also suggest that you take a look at my affiliates for any other toys you think you'd like. At no extra cost to you, I get a little portion of the sale that is going to go toward my next surgery. Woot.
We-vibe, I look forward to reviewing for you in the future. I now have a male partner so I'm able to fuck your partner's toys. 🙂