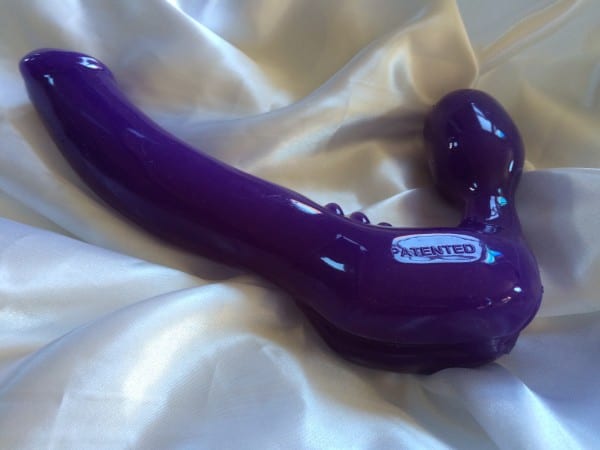 Zomg you guys, I finally have the Tantus Feeldoe. I had my eye on the Tantus Feeldoe, a double dildo that I've been drooling over for years. I didn't have a partner to use it  on but I soon found out that partner is not necessary to enjoy this toy.
The Tantus Feeldoe original is a vibrant purple that was somewhat off-putting because it reminded me of one of those bouncy balls you get from a $.25 machine, but by no means is that a reason not to have one. Now, you'll know by now that I flippin' hate the bullet vibrators that come with a dildo that has a space hollowed out for a bullet to transform it into a vibrator. However, the Tango fit right in there with a little lube to make it easier to slip it in and out. You'll remember that the Tango is my absolute favorite bullet and it fit like a glove in the Tantus Feeldoe. Once that was taken care of, I was able to enjoy some hands-off stimulation.
Using the Tantus Feeldoe on Myself:
I found that if I stood in the shower with the Tantus Feeldoe in me, when I thrust against my hand the inner bulb pressed against my g-spot. And, because the bulb isn't too long, it didn't get near my cervix and nestled against my g-spot.
Because I didn't have a partner that I could fuck in the ass (Or vag…or mouth)I experimented with different ways to get myself off with the Feeldoe. I was never one to masturbate on my stomach like a lot of women do, but I laid down with it in me and rocked up and down.
Oh. My. God. I'm a fucking genius. You'll see that the base of the shaft of the external part of the Feeldoe has ridges; ridges that feel amazing to thrust up against your clit with. The movement of the shaft of the toy that is meant to go into your partner(s) kept the toy inside me but when I planked (think: yoga) I thrust against the bed so that the bulb inside of me moved. I'm so clever. For that matter, standing up and doing a lazy sort-of jumping jacks created a unique sensation that is difficult to describe. It was something along the lines of what I felt as I thrust in-and-out with a g-spotter.
In a harness like the Joque that has an opening in the back, I was able to keep it in me with no difficultly while I thrust against a pillow. Zomg. I'm, once again, a fucking genius. It doesn't take a partner to use this toy, just an active imagination, a floor, a harness, and/or a pillow. And an orifice. That too, though it doesn't matter which one you use because this toy is anal-safe (so shove it up your ass, peeps!).
Now, I don't have the strongest PC muscles but I found that the Joque Harness held it in place without me worrying about clenching in order to keep it in me when I was standing. However, fucking myself with a double dildo on my stomach didn't require PC muscles to do anything other than clench inadvertently with my body as I rubbed against the shaft.
Eh….
It's such sticky silicone, you guys, like, not comfy. The silicone eats up the lube like a mofo. But, hey, I'm a sex toy reviewer so I have a bunch of lube available. If you're going to play with this toy, make sure there's enough lube to reapply on both ends for comfort. (I'm a strong believer in lube…and lube… and more lube.)
In this case, the half of the dildo that was to penetrate a receiving partner was too skinny for my liking. Fortunately there's an easy fix to that: butt plugs. I kid you not, shoving something in my ass and keeping it there while I thrust makes my vag tighter and the toy fit more snugly inside of me.
(Woot!)
The ingenuity of the design is a masterpiece. Tantus knew what they were doing when they made this double ended dildo, even throwing a little sleeve in there for a bullet of your choice to ride along. While many double ended dildos are long and thin on both ends, this bulb sat in my vag, all tight and happy content to hang out while I thrusted.
Moral of the story: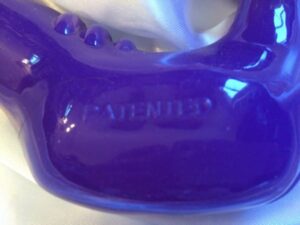 If you find yourself without a partner and in possession of this toy, have no fear! Like the Stronic Zwei, it can be used in a super-lazy way for those of you who want some hands-free fucking.
Let's say you like this…
I'd consider investing in a harness just for kicks; not because you need one but because it'd add a little variety to the fucking session and this double ended dildo can nestle in one safe and sound (while the other half nestles in their ass/vag/mouth). That being said, the Tantus Feeldoe doesn't need a harness, but it is possible to use with a harness.
The Tantus Feeldoe (I have the original) comes in various sizes for both ends:
Probs not for you?
The Feeldoe is my first double dildo and I was honored to have Tantus' toy pop my double-dildo cherry, so I have nothing to compare this toy to. There are, however, bits of the toy that you can take away. Let's say you're looking for something g-spotty like the short end of the Feeldoe offers, even though it doesn't have much of a curve, then you may want to consider something larger like the Adam O2; a dual-density toy (for funsies!) that is nice and stout like the end of the Feeldoe that the person wearing the Feeldoe inserts into themselves. If you want something insanely dramatic then I suggest you try the Comet 2 or the Pure Wand. I mention the two of those because the Feeldoe gave me nearly the same stimulation as the two of them.
If you're looking for something long and lean then you may want to consider the Uncut #1, one of their biggest hits. While I have not tried that toy there are loads of other sex bloggers that rave about this toy. If you have a partner, this toy rocks; if you don't have a partner, this toy rocks even more 'cause you get to be a lazy bum, like I am more often than not.
Did this review help you? I'd love it if you'd consider purchasing your future toys from my affiliates. At no extra cost to you, your purchase supports my blog! Go go go check them out. I wouldn't list them if I didn't like them.