Tantus sent me the Flurry O2…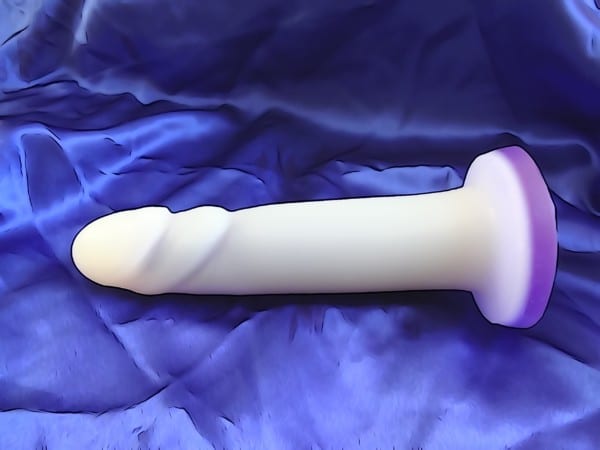 I'd heard so much about Tantus when I first started reviewing. Since then, I've had the (literal) pleasure of reviewing many toys for them (like the Adam O2, Perfect Plug Kit, Purr, Vamp, Little Flirt) and they were all so different. I tend to choose toys that are unique so that I can make the review experience fun and the possibilities endless for you. The Tantus Flurry O2, along with the Uncut #2, is the latest toy of theirs that I have for review.
It took me a while to finally get in contact with Tantus but the moment I did, when the toys arrived, I found another favorite online sex toy manufacturer. While I love companies like Lovehoney, Tantus creates all their own toys and jump on the bandwagon to be sure that their toys are the best of the lot and as unique as they can be.
Tantus' O2 line compared to other dual-density
The Flurry O2 is a smaller Cush O2, for which I am grateful. The Uncut #2 is another toy I have in my sex toy arsenal that I will be reviewing shortly and it, too, comes in different sizes (the other being Uncut #1). What makes this so awesome is that it is more inclusive for butts and vaginas (and mouths if your bitch is sucking your strap-on dick). I absolutely love this, that Tantus includes as many people as they can with their toys.  Tantus has an O2 line that I'm happy to review, pleased to have them in my vagina, but I don't love them as dual-density toys. The Tantus Flurry O2, though, I do love as a toy and I am happy to tell you that this toy hit the (G & A-) spot.
Here's the deal: I've reviewed the Adam O2 and I have the Flurry O2 and the Uncut #2; all are dual density but I'm not going to lie: I don't think they are as good as some other dual-density toys. For instance, I held the Flurry O2 in my hand and the Boss (a non-dual density toy) in the other and when I squeezed the shafts I couldn't feel much difference between the firmness of the toy. The dual-density experience becomes more realistic the further up the Tantus Flurry O2 you explore. The head it squishy, though not as squishy as some other toys . All that being said, just because the Tantus Flurry O2 isn't as realistic as other toys, it is still an awesome dildo.
Can this go in my butt (and other answers)?
Yes. Yes it can go up your butt! It has a flared base which means it won't get sucked into your asshole, the black hole of the body. It's also harness-comparable which means you can use it any way you please as if it's an extension of yourself.
The Tantus Flurry O2 is made of a high quality silicone which means that it's not porous so it won't create any nasty bacteria that can feast on your body. That being said, don't use this in your vagina after it's been in an asshole, that can hurt a vagina. You can boil it, stick it in the dishwasher, or simply wash with soap to clean it so that's it's all ready for the next use. You can also bleach it but that's something I've never done. Having such harsh chemical near my vag scares me and, frankly, it's not necessary with such a high-quality silicone toy such as this.
How I used the Tantus Flurry O2
To sum it up in one word: fast. To explain what I mean in lots of words, read on.
The first rib of the Tantus Flurry O2 hit my g-spot without the awkward POP that happens when I put something so textured in my vagina. I found that as I thrust, in order to feel maximum g-spot pleasure, I didn't have to insert the toy more than the two ridges that create the texture for this toy. Quickly enough, I felt the need-to-pee sensation that means that I'm doing it right.
My g-spot wasn't the only part of my vagina that was stimulated through thrusting, I was also able to hit my A-spot with minimal uncomfortableness against my cervix. However, I'd use this toy for g-spot pleasure, not a-spot; and g-spot alone is good enough reason to purchase this toy. I wish that there had been a ridge or two more on the toy so I could go farther, something the Kelvin the Ice Dragon had plenty of, but that doesn't mean this toy was unfortunate because it only had two. Two was all I needed, more would have been icing on the cake once I was more aroused, but cake is where it's at.
The Tantus Flurry O2 didn't need a curve, dramatic or otherwise, to hit my g-spot. Because the ridges were larger than the shaft–though not by much–it created the g-spot stimulation I crave.
I'm quite pleased with myself for being clever enough to figure this use out: I rubbed it along my clit to get close to the same feeling as the Sqweel Go. While it wasn't the same, there was still that brief feeling as one ridge met the other to have a momentary break in contact with my clitoris.
Who may like this toy?
I did, and textured toys with me are either a hit or miss. While I don't think it feels like a real penis, that doesn't matter because it creates a sensation that dicks cannot. If you're looking for a dildo that is textured in a way that it hits your g/p-spot without pressure on your pelvic bones, you may like the Tantus Flurry O2. If you're looking for a simple dildo, about the same size but without intense stimulation, give the Vamp a try and you'll find that it can most likely hit your A-spot. I may not have loved it, but still gave me pleasure.
Let's say you want a toy that really, really feels like the real deal: You should consider the Mustang or the Maverick. Tested by a friend, they are as close to a real, dual density dick as you can get.
All that being said, I do highly recommend Tantus toys, no matter which ones you get. They're made of high-quality, body-safe silicone that is sculpted for pleasure. You'll see that the shapes are incredibly different from one toy to the next so I trust that you'll find something from Tantus that works for your body.
DID THIS REVIEW HELP YOU? I'D LOVE IT IF YOU'D CONSIDER PURCHASING YOUR FUTURE TOYS FROM MY AFFILIATES. AT NO EXTRA COST TO YOU, YOUR PURCHASE SUPPORTS MY BLOG! GO GO GO CHECK THEM OUT! I WOULDN'T LIST THEM IF I DIDN'T LIKE THEM.
Pros
Softer head than a
Ridges create a calm wave of pleasure
Used on clit, similar to the Sqweel sensation
Quality silicone, easy to clean
Unique in shape
Cons
The base is curved so I had a hard time keeping it upright when not in use
The purple under the white isn't very visible