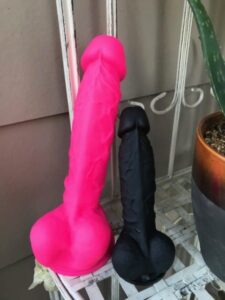 Lovehoney Black 5.5 Inch Silicone Dildo and Pink 8 Inch Dildo
I'm going to start off by saying that these names are ridiculously long. So, when I talk about the Black 5.5" Dildo I'm talking about the Black Lifelike Lover Luxe Silicone Realistic Dildo 5.5 Inch Dildo and when I discuss Pink Lifelike Lover Luxe Realistic Silicone Dildo 8 Inch I'll say Pink 8" Dildo.
Lifelike Lover Lux Silicone Realistic Dildo 5.5 Inch
When I saw the Black Lovehoney Dildo I knew it was going to go into my butt. It is the perfect size for my asshole, and it has large balls which makes it anal-safe.
Treat your butt as a special little thing with an bitchy attitude. That's why I was so excited when I saw the size and the flared base. It was PERFECT for my anus. I couldn't wait to give it a try. When I saw the pink 8", though, I was intimidated. It's slightly thicker than the Cadet but not quite as thick a the Maverick.
The black dildo is straight and to the point while the pink dildo is gently curved. Very, very gently. If you aren't into curves or g-spot stimulation, both of these toys have the possibility to work with your body and your body's needs.
I was pleased with the quality and the size of the toys. Because they are at extreme sizes, one being the smallest dildo I have, to one of the larger ones (pink) I had the opportunity to spoil myself and give each extreme a try for the same review.
When I looked at the Black Dildo I immediately compared it to my other toys. Is this the straightest toy I own? Pretty much. Smallest dildo? By far. Going in my ass? Fuck YEAH. I also looked at other dildos that are most comparable to this toy so that I can add at the end of this review some alternatives to the Black Dildo.
The Pink Lovehoney Dildo, however, is probably the longest dildo that I own. While the Blush Nude is pretty darn large, it's dual-density while the Black 5" is not. Because the Pink Dildo is solid silicone, it's going to feel larger than a dual-density toy or a Tantus "Supersoft" that's about the same circumference.
And then I realized something: I could probably fill my everything with these two dildos. I could get one in my ass and one in my vag for the win!
I recently go the Bound by Tantus and Shevibe and on the first touch, the quality was the suckiest I've ever come across. However, the silicone of the Black and Pink Dildo was just the right amount of flexibility and squishiness. Because it's pure silicone, both dildos can be washed in the dishwasher, boiled to sanitize it, or soak in a bleach/water solution. However, as I said, because it is silicone, it is not absorbent at all. There's no need to sanitize it or clean it any way other than washing it with soap and water.
I enjoy sticking all my dildos in the dishwasher so I do that occasionally, but after I use my toys I simply wash it with soap and water. Oh, also, never go from your butt to your vagina or mouth. Butts are SO not clean and can lead to infections or sickness (if transferred to your mouth). As a general rule, either use a condom when it's in your butt and take it out for when it's time to stick it in your vag or your mouth or take a moment to wash it. Don't just wipe it off, wash that shit.
The difference between the Pink Dildo and the Black Dildo is ridiculous. They both have balls as to be expected and are proportional to the shaft.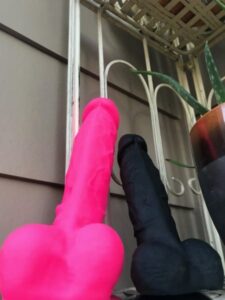 I liked the sizes of both toys. Because they were as different as night and day, they each served a purpose. In my case, the black dildo is going to be a starter dildo, though the Mustang or the Amor would suffice, and it'll be the only dildo so far that will find a resting place in my anus.
Of course, since I didn't have a douche for my butt, nor did I prepare my body in any other way to have something in my ass. I ate a large meal and I hadn't pooped. There was the customary mess of some sort. And it's black. Did I mention that the damn toy is black? While it's my favorite color for a sex toy (affiliates take note of this!) it accentuated my butt juice.
Anything that goes in your butt MUST have a flared base of some sort. Otherwise, you could injure yourself or wind up in the ER. Just remember, the asshole is the black hole of the body. Your butt will suck up anything that's placed in it.
The Pink Dildo required a warm-up dildo for me. Though it isn't the largest toy that's been in me, I often have vaginal pain when I stick things up my vag so I took it slow with the pink one. While the black one is also textured, the pink one's texture is astronomical. It's similar to the Mini-Rippler but unlike the Rippler, the Pink one is covered in realistic veins and uneven balls.
The balls are very realistic. While it threw me off, I know that other people into realistic dildos will go crazy over this dildo.
The head has a retracted foreskin, something that isn't as obvious in other toys (though it isn't the Tantus Uncut). The absence of foreskin in the sex toy industry isn't a huge issue for many people and while I'm not in that debate, I do think that this toy would please many people.
Hey, let's talk about my butt and the Lovehoney Black Dildo
I'm not going to lie, as much as I try to like shoving things up my ass, I don't always enjoy it. Not because it hurts, and it often does b/c I can't relax enough (DON'T DO IT IF IT HURTS). I don't always enjoy it because it makes me feel like I'm about to take a shit. And after a shitty experience with a product I actually liked quite a bit, I've been paranoid that I'm going to shit all over the wall again.
I've tried to get the Mustang in my butt before, as with the Cadet, but the Cadet was too darn big and the Mustang just didn't do it for me. Which brings me to the Black Lovehoney dildo: YES. YES I GOT THIS IN MY BUTT. I GOT IT IN MY BUTT GUYS. BUTT.
I rarely find a dildo that is comfortable in my rear so I was so excited when I got this tiny little dildo in my butt.
I didn't like thrusting with it, though, but it is a dildo that'd be rather easy to thrust with. I was just happy that I got it in me!
Compared to the damn monster dildo, the Black Lovehoney Dildo was a joke. A joke I got in my butt. Did I mention that I got it in my butt? I found that the Black Dildo is even smaller than the Mustang. You'll see in my blog that my eyes are bigger than my genitals and now that I know that, I try to aim for the smaller internal toys.
Experience with the Black Lovehoney Dildo
I've touched on my experience with the Black Lovehoney dildo but allow me to delve further. While I used it vaginally first, as a wonderful starter, the Mustang is equally as fitting. Because the silicone is so firm for the Black Lovehoney Dildo, it is a completely different feeling than the realistic dual-density of my first choice for a "starter dildo": the Mustang.
Rather, the Black Lovehoney Dildo is not officially my butt dildo. I used it with my vag but it was just…whatever. It didn't push me over the edge, it didn't stimulate my g-spot, it was just…there.
Is that a bad thing? Well, it certainly wasn't earth-shattering but it was something to fill up my hole. However, I can imagine that this toy would be a fantastic toy for those who are more sensitive to having larger things in their various orifices. It's not threatening and that's why I wasn't just not afraid to stick it in my ass, but I was EXCITED to stick it up my ass. Finally, something that may be comfortable.
And comfortable it was. It was similar to having a large-ish butt plug in me. It wasn't something I would go to the mall with it in me (mostly 'cause the balls are so big) but it was perfect to have in me when my muscles contracted against it. The largest similarity I can compare it to is the BBalls by Fun Factory. It's a butt-plug-ish toy that bounces within you. The Black Lovehoney dildo, however, stationary and slightly deeper.
Now for the pink 8″ dildo:
There's not too much to say about this one. Not because it sucks, but because it's basically most dildo's out there. It filled me up but I have a hard time taking hard dildos in my vag so it wasn't comfortable. The head, however, did hit my g-spot. Have I mentioned I love g-spotters? Especially sneaky ones like this. If you're not a sex toy reviewer, it may not be obvious that a head like this will stimulate your g-spot.
I found that the sharp head of the dildo rubbed against my g-spot and I felt m g-spot to see the reaction my body had to it and, yep, the spongey part of my vagina had hardened.
YES! SUCTION CUPS!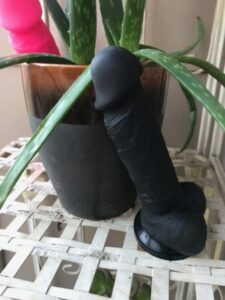 I love suction dildos, though I have a rocky relationship with them. The Vixen suction cups are shallow but sturdy, though they don't stick long. They work well in the shower and aren't too obvious. The Bad Dragon suction cups are also decent but the suction cups for the Black and Pink dildos are the bomb.
They're big and ugly and take away from the aesthetics of the toy, but it's damn effective. As usual with suction cups, they work best against a solid, untextured wall, these suction cups worked on my slightly textured wall. They didn't last forever, but the suction lasted long enough for me to have some fun.
Usually, I only use suction cup dildos for the sake of the review but because the Black and Pink Dildo suction was so strong, I was able to ride those dicks against my wall. As awkward as it is to ride a dildo on the floor of the bathtub (because how do you get far enough down?) the pink dildo was doable, while the Black Lovehoney  Dildo was just too short.
On top of that, the two dildos can be suctioned together to create a custom double-ended dildo.
Who would like this?
I'm still in awe that I got it up my butt which is why I'm so excited to give you other suggestions in case this doesn't do it for you. As I mentioned before, the black 5" dildo is stiff silicone so if you're looking for something softer, and something that's dual-density, I'd suggest the Mustang with pride. Something with the same sized shaft but with a prominent head for g-spotting? Give the Bullseye a try. If you want texture similar to the black 5" but don't like the idea of a realistic dildo, the Mini Rippler is something to consider.
As for the monster Pink 8" dildo: The Maverick is a dual-density large toy that isn't nearly as stiff but has a thick shaft to fill you up. Adam O2 by Tantus is another toy to consider, it being a dual-density toy with a thick shaft.
Who should get these toys?
If you're looking for a firm anal-safe realistic dildo, both the Black 5.5" and the Pink 8" dildo are suitable for that. If you're a fellow g-spotter fan and want something more intense like the Comet II, give that sucker a try. However, it's important to note that the head of the pink dildo is very prominent. While it wasn't curved, I could still feel the pressure of the head against my g-spot.
Would I use this toy again?
As you have guessed, I have a shitton of sex toys. Some I use a few times for the sake of the review, and others I go to again and again.
I would not use the pink dildo again, purely for the size. However, I do believe this is a toy that one can use as their go-to dildo and if I didn't have so many toys, I'd go back to this one when I want a vag pounding.
As for the black dildo: Hell. Yes. This is my favorite toy for anal-play and I will absolutely be sticking it up my ass in the future. It's also a good warm-up dildo to prepare my vagina for play with a larger dildo.
This is why Lovehoney is so awesome
EDIT: Since this publication, the Lovehoney return policy has changed and is less awesome.
You can get these toys exclusively through Lovehoney online. Lovehoney has a 365 day return policy even with opened toys. How does it get better than that? With all the toys they carry, I don't doubt you'll find one that suits you.
Lovehoney
Thank you so much for giving me these toys to review: The black, 6″ dildo and the 8″ dildo I'm always pleased when I can recommend good products from you that people will enjoy.
Did this review help you? I'd love it if you'd consider purchasing your future toys from my affiliates. At no extra cost to you, your purchase supports my blog. WHAT ARE YOU WAITING FOR go check them out gogogo! I wouldn't list them if I didn't like them.