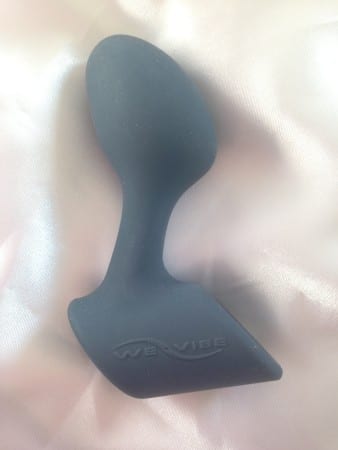 I thought my butt was off-limits when I first started out with sex toys. Because I didn't understand the pleasure ones' ass can bring, I thought anal-play was for gay men and gay men only. Now, however, my girlfriend and I both enjoy it.
Don't Put a Vibrator in Your Ass
I started out by inserting a vibrator that was very much not anal-safe. By the blessing of the Goddess my butt didn't suck it up. Keep in mind, the butthole is the black hole of the body. If you put something that doesn't have a flared base, your day could result in a very awkward ER visit.
The low-quality vibrator was …. okay. But it wasn't until I found myself in the bath pulling anal beads out of my ass as I came that I really realized this was something I could enjoy.
I've Gotten a LOT of Butt Plugs for Review
As a reviewer I've been given countless butt plugs from tiny Tantus butt plug that shot out of my ass when I coughed; to silicone anal beads from Good Vibrations, my first sex toy store; I've had plugs that attach to vibrators; and now the Tantus Planet Dildo line with a butt-ton of anal toys (like these that I purchased for myself). I was fine using them until I tried this butt plug. It was by far my favorite butt plug, the fit was so perfect, but I hadn't cleaned myself out before using that.
And at the time I didn't think that was necessary because I was playing alone. Let me just say you should really take a shit before you put anything in your butt. The minute the toy came out so did …. my insides. It was not pretty and turned me off to butt plugs for quite a while.
Here I go again, sticking things in my butt
But with the Tantus Planet Dildo line I'm exploring butt plugs again, and ones I haven't been sent for review. Before my ….shitty…. experience I really enjoyed butt play. It gives me the sensation I get is both pleasurable and as though I'm pooping but I like it, and I'm happy that I'm going out of my comfort zone to try putting some new things in my body. Not all of us have vaginas like I do, but we all have assholes, so I'm trying to be more inclusive.
Go fuck yourself and have a nice day!