I'm super excited about the Womanizer Premium Eco, y'all. Today is Earth Day, a day to celebrate what earth we have left and find ways to save as much of this planet as we can. Womanizer did something amazing this year: they created an eco toy whose profits go toward the earth. Seeing all these toys made out of non-renewable resources, knowing that they're harming the planet is upsetting. I just clearly don't care enough about the environment to bid ado to all the silicone toys. The Womanizer Premium Eco is a toy I can proudly stand behind.
To create the Womanizer Premium Eco, Womanizer ran an Indiegogo campaign to collect the money needed for this project. The Womanizer Premium Eco is a revolutionary toy from Womanizer's line of… Womanizers. Honestly, the Womanizer is one of my favorite toys, and I've reviewed many from their lines and loved them all. In fact, I gave a Womanizer Premium away earlier this year.
From the Source: Womanizer Explains
The World-First Biodegradable Vegan Sustainable Eco-Friendly Sex Toy Made from BIOLENE.

ALL proceeds from this campaign are going to One Tree Planted. In other words, 100% of the total raised here, minus taxes and platform fees, will be donated to this awesome organization.

This project supports a women's cooperative to revive land in Mukura. Additionally, the co-op strives to improve the livelihoods of vulnerable people, especially women and youth, through sustainable agricultural practices and promoting cultural values and natural heritage conservation in agricultural areas.

http://womanizer.com
Experience with the Womanizer Premium Eco
Starting out, I wasn't sure how similar the Womanizer Premium Eco would be to the Womanizer Premium, so I started optimistically. Handling the Womanizer Premium Eco was smooth and just like the traditional Womanizer Premium. The body of the toy is similar to ABS plastic and feels incredibly smooth. It is now one of my favorite toys to handle.
Usually, my first move is to charge the toy, which I did, and then I changed my system. When the Womanizer was charged, I changed the head of the Womanizer. Usually, I go with how it comes to put together, but I felt spunky, so I went with the smaller head. It turns out that was the way to go. I got more stimulation from the air pulses than I did with the deeper heads. *Pats self on the back for being gutsy*
Since air pulse toys always make me squirt – and then pee – I took it in the bath with me. One of the nice things about the Womanizer is that I never need porn to get turned on. Nor do I even need a warm-up. I turn it on, place that thing over my clit, and less than five minutes later, I come.
Oh, Heck Yes
Furthermore, the toy shuts off when contact is broken between the body and the toy. Having the default set to "do not proceed" when it isn't against you is great. It allows you privacy if you live with someone who may barge into the room. In my case, that's not an issue, but if for some reason I feel like it's too loud or I don't have privacy, all I have to do is take it off my clit.
That being said, the intensity levels are vast, there are 12 of them, and if I want to get off quicker, I increase the intensity. And let me tell you, these start gentle and get absolutely insane as you go up. I've never been able to take level 10-12. It just is too much for me. But the fact that it can create a gentle sucking sensation means that more people can comfortably work with this toy.
Materials, Care, Keeping of the Womanizer Eco
Most recently, I reviewed the Lily Allen Womanizer. I loved it so much, and the standard Womanizer Premium is my favorite Womanizer toy! The Womanizer charging cable is magnetic, as are all the others, which is awesome.
Additionally, this goddamn amazing, Earth-saving toy even comes in an eco-friendly, totally recycled box. In it, you'll find this sex toy with an eco-friendly cotton bag. On top of that, there is absolutely no plastic in the packaging of the Womanizer Premium Eco. It's certified by the Forestry Stewardship Council to be eco-everything. Womanizer donates to One Tree Planted for every Womanizer Premium Eco sold.
So, Biolene is the construction material behind the Womanizer Premium Eco. Not sure what "Biolene" is? Neither was I. "Biolene is synthesized from renewable raw materials – mostly corn starch." Can a luxury sex toy get any cooler than this? The packaging and material reduce waste and is an alternative to fossil fuel-based plasticsHonestly, I wish more sex toys came to this earth-friendly. On top of all that fun stuff, the head is the customary silicone with other models.
However, like their other models, Womanizer Premium Eco harnesses the same pleasure-air technology that the Womanizer Premium does. Pleasure-air technology delivers non-contact orgasms by puffing air against the clit, creating a sensation similar to cunnilingus. I have no trouble reaching orgasm with the womanizer.
It Can Be Taken Apart!
Forgive me for using copy content, but I have to share this with you – the Womanizer Premium Eco can be dismantled and put back together again. My wife will have a blast with this. You can change the damn battery – wtf – to prolong the life of this toy. This is just amazing.
As a side note: I have used this toy every single day since I got it. Yeah, it's that good. I know it only comes in pink, but it's the shade of one of my other favorite toys.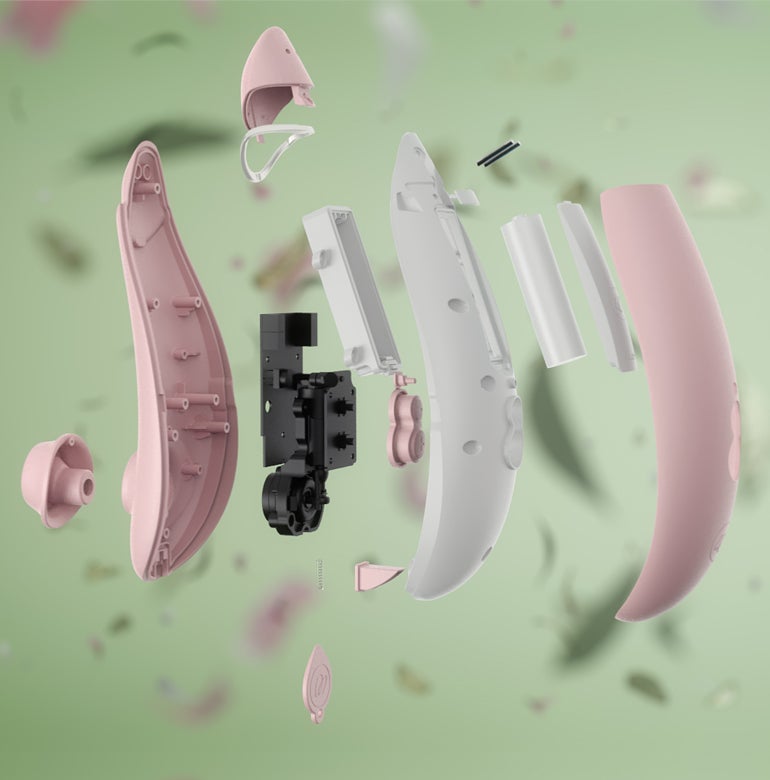 Where to Buy
Betty's Toy Box | US | Use coupon code ONHERBACK for 10% off | April 22-25 you can get a free biodegradable bullet with a $75+ purchase
Peepshow Toys – COMING SOON!
Support On Her Back
Did this review help you? I'd love it if you'd consider purchasing your future toys from my affiliates. At no extra cost to you, your purchase supports my blog. Go check them out and please clear your cookies if you want to make a purchase! I wouldn't list them if I didn't like them. I also have a Patreon account you can sub to over here.
Womanizer Premium Eco
$199.99